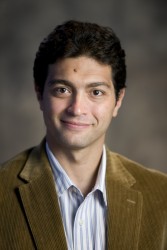 Mahmoud Hamad, assistant professor politics, will give a lecture titled "All for the Family: The Father-Son Succession in Republics," on Friday, Oct. 8
The free and open to the public event is part of the 2010 Drake Center for the Humanities Colloquium Series and will be held from 3:30 to 5 p.m. in the Honors Lounge of Medbury Hall, 2730 Forest Ave.
Hamad will examine the phenomena of strong political families that dominate the political scene, including the Kennedy and Bush families in the U.S., the Nehru-Gandhi family in India and the Bhutto Family in Pakistan, and investigate the political, economic and social consequences of this trend.
The lecture will also discuss hereditary presidential succession in republics, including North Korea, Syria, Togo, Singapore, Azerbaijan and Gabon, where long-term presidents have attempted to secure power transitions to their sons.
Hamad, who joined Drake's politics department in 2008, received his bachelor's and master's degrees from the Cairo University in Egypt and his doctorate from the University of Utah. He has taught at Cairo University, Brigham Young University and the University of Utah.
His teaching and research interests focus on Middle Eastern politics, religion and politics, comparative judicial politics and civil-military relations.
The Humanities Colloquium Series will continue through the fall with the following presentations, which will take place from 3:30 to 5 p.m. in the Honors Lounge of Medbury Hall:
* Oct. 22 — Eduardo Garcia, assistant professor of Spanish, "Mexico Celebrates 2010: Learning about Mexican Identity with Authentic Videos"
* Nov. 5 — Joan Faber McAlister, assistant professor of rhetoric, "Intimate Artifacts and Aesthetic Agents: Rhetorics of Preservation and Transformation in Two South African Prison Museums"
* Nov. 19 — Renee Cramer, assistant professor of law, politics and society, "Signs at Odds? Reading Law, Legitimacy and Authenticity in Tribal Demarcations"
The University's Center for the Humanities sponsors the ongoing colloquium series that features faculty members whose work involves questions and topics relevant to the humanities.
For more information about the series, contact Joseph Schneider at 515-271-2158 or joseph.schneider@drake.edu.