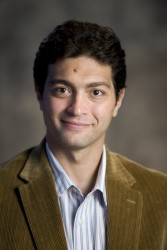 Mahmoud Hamad
A forum titled "What it means to be an American Muslim" will be held at Drake University on Thursday, Oct. 7. The event, which is free and open to the public, will start at 7 p.m. in Sheslow Auditorium in Old Main, 2507 University Ave.
Mahmoud Hamad, Drake assistant professor of politics and international relations, will moderate the panel discussion. The panelists will be:

AIFD was formed in March of 2003 by a group of Muslim professionals in
the Phoenix Valley of Arizona. According to its website, the
organization offers regular commentary in opposition to
"religious fanatics who exploit the religion of Islam for a nihilistic,
anti-American anti-Western war."
Jasser recently wrote an opinion piece for the Des Moines Register titled "What the Muslims in America can do." Read the op-ed on the Register website.
Professor Hamad joined the Drake faculty in the fall of 2008. He received his Ph.D. from the Department of Political Science at The University of Utah and his B.A. and M.A. in Political Science from Cairo University, Egypt. His teaching and research interests focus on Middle East politics, comparative judicial politics, civil-military relations as well as religion and politics.
Prior to coming to Des Moines, Hamad taught at Cairo University, Brigham Young University and the University of Utah. He was a Fulbright scholar twice during his graduate study and in the summer 2008 he attended Brandeis University's Summer Institute for Israel Studies. His current research projects focus on the judicialization of politics in the Middle East.

The forum at Drake is sponsored by the Stanley Richards Revocable Trust. For more information, contact Stanley Richards at 515-282-4218.