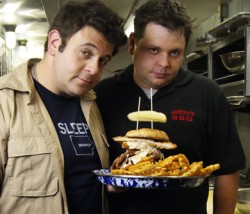 Travel Channel photo of Adam Richman and Mike Booth, kitchen manager, at Jethro's BBQ holding the Adam Emmenecker Sandwich.
One of the nation's bravest eaters will tackle the towering Adam Emmenecker Sandwich at Jethro's BBQ near Drake University on national television Wednesday, Oct. 6, in an episode of Travel Channel's "Man v. Food."
The 30-minute episode, which premiers at 8 p.m. Central time, follows host Adam Richman as he attempts to down the 5.5-pound sandwich in 15 minutes.
The signature sandwich is named after Drake's renowned point guard who led the Drake men's basketball team to the MVC Championship and NCAA Tournament in 2008. Emmenecker also won the 2008 Larry Bird MVC Player of the Year Award.
Bruce Gerleman, owner of Jethro's BBQ at 3100 Forest Ave., said the restaurant will host a watch party starting at 7 p.m. Wednesday. Reservations are being accepted at 279-3300 for those who want to take the challenge.
Jethro's will waive the cost of the $19.95 sandwich for each contestant who devours the entire sandwich in 15 minutes. Each winner also will receive a commemorative T-shirt.
The general public is welcome to attend the watch party on a first-come, first-served basis.
Jethro's created the signature barbecue sandwich with Emmenecker's favorite foods — breaded pork tenderloin, a grilled bacon cheese burger, Texas brisket, "fried cheese" and more piled onto a hamburger bun and served with a side of fries.
View a video about Emmenecker and the building of the sandwich on the Des Moines Register's website.



So far, only three people — excluding Emmenecker — have eaten the entire "gi-normous" sandwich in 15 minutes, Gerleman said. Most people take at least an hour to finish it, he added.
"Man v. Food" spent 14 hours videotaping at Jethro's in August and also collected video of the Drake campus, Gerleman said. Emmenecker, who works at Principal Financial Group, is expected to appear in the show and at the watch party, although he won't be competing in the challenge. "He's too smart for that," Gerleman said.
In addition to Jethro's, Richman's quest through Des Moines' culinary gauntlet includes stops for crispy pressure-fried chicken and bacon-wrapped tater tots at the High Life Lounge, 200 S.W. Second St.; and for the famous Bacon Double Cheeseburger Pizza at Black Market Pizza, 1701 S.E. Delaware St., Ankeny.