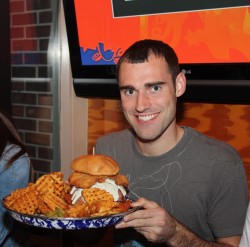 Adam Richman, host of Travel Channel's "Man v. Food," could not take down the sandwich named after Drake basketball standout Adam Emmenecker last night.
Nor could 12 others who tried to down the towering meal at Jethro's BBQ near Drake University.
The crowd that packed the restaurant watched on big-screen televisions as Richman failed to finish the 5-pound sandwich in 15 minutes. After the episode aired, 12 daring diners tried the challenge themselves — and fell short by wide margins.
Click here for a photo gallery from the event.
Emmenecker, who helped lead the Bulldogs men's basketball team to a Missouri Valley Conference title in 2008, was on-scene with his namesake sandwich and a side of waffle fries. Jethro's built the sandwich with some of Emmenecker's favorite foods — a pork tenderloin, buffalo chicken tenders, fried cheese, a bacon cheeseburger and Texas brisket topped off with cheese sauce.
"I've finished this, but never in 15 minutes," Emmenecker said. "When we first started we didn't have the 15-minute challenge. I've finished it in maybe 20 or 25 minutes."
Emmenecker smiled as his Bulldogs photo and name appeared on a big-screen, high-definition television above his head — broadcast to a nationwide audience.
"I'm really excited," Emmenecker said between interviews for local TV news outlets. "About two years ago some of us had talked about this potentially happening, but we never thought it would be a reality. This all started out of comments on 'Man v. Food's' message forums and took off from there. It's an awesome time for Des Moines."
Bruce Gerleman, owner of Jethro's in Des Moines, stood on a chair as he announced the kick-off of the 15-minute sandwich challenge.
"This is dedicated to Drake's outstanding basketball team of 2008," Gerleman said. "All their great shots, all their great comebacks and all the great games they had."