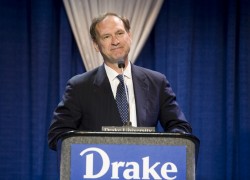 Justice Samuel A. Alito Jr. at the start of his hour-long lecture.
Televising hearings would impact the nature of arguments before the U.S. Supreme Court and may require changes to the way the Court conducts business.
That was the concluding argument made by Supreme Court Justice Samuel A. Alito Jr. at Drake University. Alito delivered the 12th Dwight D. Opperman Lecture in Constitutional Law to a crowd of 1,500 gathered Thursday afternoon at Drake's Knapp Center. View an online photo gallery of Justice Alito's visit to Drake.
In his opening comments, Alito expressed gratitude for the hospitality shown him during his Drake visit. In addition to his public lecture, Alito had a question-and answer-session with law students and faculty, a lunch with faculty, a meeting with federal judges and a tour of Opperman Hall and Law Library.
"What an impressive facility," he said at the start of his lecture.
Drake law students were equally impressed with Justice Alito.
"He offered Drake law students insight into the every-day practices of the highest court in our country," said Kevin Bell, a third-year law student and president of the Student Bar Association.
During a private question-and-answer forum with Drake law students and faculty, Justice Alito showed transparency as he explained methods by which he interprets federal legislation and the United States Constitution.
"Law student leaders further experienced this transparency as they visited with Justice Alito following his public remarks," Bell added. "At this reception, Justice Alito joked about his days in law school and encouraged students to make the most of their legal education."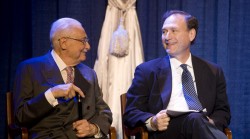 Dwight D. Opperman and Justice Alito chat on stage.
Drake President David Maxwell and Law School Dean Allan Vestal spoke at
the start of the lecture and both thanked Dwight D. Opperman for all he
has done for the Law School and the University.
A native of Perry, Iowa, Opperman received his undergraduate and
law degrees from Drake. He endowed the lecture series to recognize the
importance of constitutional law to the nation and to enhance its
emphasis at Drake Law School.
Justice Alito also expressed gratitude to Opperman, who shared the stage with the three other gentlemen.
Opperman, Alito said, "has surely been the best of friends both to
this University and to the federal judiciary. I speak for all members
of federal judiciary in thanking him sincerely for all he has done."


Hearings and history
Supreme Court hearings are open to the public and covered by the
media, said Alito, who joined by the court in January 2006 after being
nominated President George W. Bush. Transcripts are available online
and it was recently announced that audiotape recordings of arguments
will now be released at the end of each argument week, instead of
months later.
Yet, Alito noted, a recent poll shows that 60 percent of Americans
favor televised arguments. Despite the opinion of advocates for
televised hearings, the change would impact the way arguments are
presented, Alito said.
Before sharing his views on televised hearings, Alito presented an
entertaining history lesson that traced the evolution of oral arguments
before the Supreme Court.
The first Supreme Court, which convened in Philadelphia, adhered to
a British model, right down to the powdered wigs and ermine-edged robes
worn by the justices.
Oral arguments ruled the proceedings. Justices knew almost nothing
in advance about what they were going to hear and attorneys could talk
as long as they wanted.


Court procedures change with move to Capitol Hill



Things started changing in the early 1800s when the court moved to
Washington, D.C., and justices started wearing plain black robes when they met in the basement of the Capitol.
Justices would get outlines of the oral presentations they would hear,
but there were still no time limits and hearings could go on for days.
Since Washington was an expensive trip for many, lawyers who served
in Congress, or whatever administration was in power, usually argued
before the court, Alito said.
"It was an easy matter for members of the House or Senate to pop
down to the basement of the Capitol to argue cases before the Supreme
Court in between votes on the floor," he said.
This was the age of "high oratory" when legends like Sen. Daniel
Webster would draw an audience. These verbose lawyers wanted to
entertain the crowds as much as sway the justices. This phenomenon
could be reborn with televised hearings, especially any involving
high-profile issues.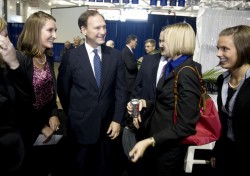 Justice Alito interacts with students following his lecture.
Role of legal briefs
As time went on, the legal brief grew in significance. The "oral
argument as the sole vehicle of persuasion steadily diminished in
importance, supplanted by briefs," Alito said.
While modern-day briefs may play the biggest role in a justice's
decision-making, oral arguments can give the court a public face, and
show how justices are deeply and personally involved in their work.
"This is not insignificant, but the decision-making process must come first," Alito said.
These factors could impact the viability of televised hearings
because viewers would likely see an attorney start to speak only to be
interrupted by a justice's question. Justices often speak at the same
time and questions don't always follow in a logical order. This would
last for the hour allotted for the oral argument and then court would
recess.
"An attorney has not had a chance to make a structured coherent
presentation," Alito said. "After an hour of this, what would ordinary
viewers think?"
That one hour is just the tip of the iceberg, Alito noted.
"Many hours of study and thinking would have been devoted to the
case before the arguments and many more would follow it," he said.
To accommodate a television audience, the process might have to be
changed to allow an attorney uninterrupted time to deliver a
comprehensive argument, and then provide time for justices to ask
questions.
Televised hearings might help the public understanding the workings
of the court, but only to a limited extent. Ultimately, Alito concluded, like oral
arguments themselves, televised hearings wouldn't contribute much to
the decision-making process of the justices.