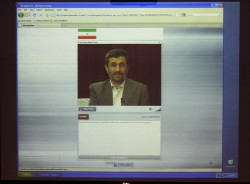 Iranian President Mahmoud Ahmadinejad speaks with students via live videocast.
Approximately 150 Drake University students sat in on an hour-long videoconference with Iranian President Mahmoud Ahmadinejad on Tuesday, Sept. 21.
Ahmadinejad spoke, through an off-screen translator, on issues that included nuclear energy and armament, women in Iran, politics in Iraq and foreign investment in Iran. He took questions from Soraya Sepahpour-Ulrich, a columnist, writer and blogger who sat with the president in a location that was not disclosed to viewers.
Drake was one of five colleges and universities where students were invited to watch the live video broadcast. Late in the interview, Ahmadinejad fielded a question from first-year Drake student Drew Kaufman, who asked Ahmadinejad how he envisioned Iran in 20 years.
"It will be a very great place"¦ with peace, justice and compassion for all," Ahmadinejad responded. The president also commented that the U.S. has "never entered any serious wars."
"All the wars the U.S. has entered have been minor unilateral ones, and it has lost them all," Ahmadinejad said. He emphasized that threats of military force by the United States against Iran were "only threats" and that the United States "could never take action" against Iran.
Kaufman, a political science major, said the videoconference was a valuable learning experience, even if he didn't agree with Ahmadinejad's perspectives.
"It was definitely worthwhile to see the man up close and personal, and for an entire hour," Kaufman said. "Usually you only see him in short news snippets."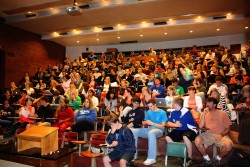 Students packed into a 140-seat classroom in Harvey Ingham Hall.
Political science and journalism professors and faculty teaching relevant first-year seminar invited their students to the event, which was held in Harvey Ingham Hall.
"The basis for this interview is to make an independent judgment of who Iran's president really is," said Sepahpour-Ulrich, who has blogged for Huffington Post, Daily Censored and the Los Angeles Times.
Afsaneh Zaeri, a Drake senior from Kansas City, Mo., who has close family members in Iran, agreed that it was a valuable experience. But, she wished the president had answered more candid questions, like the one she submitted. She wondered how Ahmadinejad planned to maintain human rights for members of the Baha'i faith.
"It felt like he was answering many of the questions that we've seen him address on other occasions," Zaeri said. "It was still a great opportunity for students, but I wish more of the questions had been unconventional."