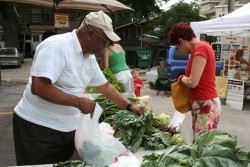 The Drake University School of Education will distribute free books to children at this week's Drake Neighborhood Farmers' Market on Wednesday, Sept. 22.
In addition, representatives from Primary Care Clinic and Healthy and Well Kids in Iowa will be on hand to offer information on medical services and free or low-cost health insurance options.
The market is open from 4 to 7 p.m. every Wednesday through Sept. 29 in the parking lot of First Christian Church, 2500 University Ave. Free parking is available for shoppers across from the market on the east side of 25th Street.
A health tent, where shoppers can have their blood pressure and blood sugar levels measured for free, is available every week.
The market is a nonprofit, community project sponsored by First Christian Church, the Drake Neighborhood Association and Drake University.
For more information, call Ginny Gieseke at 515-277-6951 or visit the Web site at www.drakefarmersmarket.com.