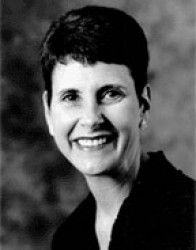 Aimee Beckmann-Collier
CONTACT: Tory Olson, 515-710-4446, tory.olson@drake.edu
Aimee Beckmann-Collier, professor of conducting at Drake University,
will examine music as an intersection of mind, body and spirit as
keynote speaker for the 26th annual Luther W. Stalnaker Lecture at 7
p.m. Thursday, Sept. 23.
The music-enhanced lecture, titled, "Making Music: Engaging Mind,
Body and Spirit," will be held in Sheslow Auditorium, 2507 University
Ave., on Drake's campus and is free and open to the public. A reception
will follow in the Madelyn M. Levitt Hall of Honor.
The Drake Chamber Choir will give a demonstration of its rehearsal
process during the lecture. Their performance will inform a discussion
on the contributions choral musicians can make to a globalized, divisive
and technologically driven culture.
"We're not just going to talk about stuff," Beckmann-Collier said. "We're going to let the audience experience it."
The annual Luther W. Stalnaker Lecture, named in honor of a
professor of philosophy and dean of the College of Liberal Arts from
1940 to 1954, is a joint undertaking of the College of Arts and
Sciences. Every year college officials select one faculty member to
present at the lecture series and to be honored for his or her
outstanding research.



Beckmann-Collier received her bachelor's degree in music from Saint
Mary's College and master's and doctoral degrees in choral conducting
from the University of Iowa. She joined the Drake faculty in 1989 and
has a rich portfolio of experiences.
She also has conducted twice in Carnegie Hall, serves as President
of the North Central Division convention, Chair of the Iowa
Comprehensive Musicianship Project and was previously President of the
Iowa Choral Directors Association. She also has had the opportunity to
conduct the Drake Choir and Chamber Choir in England, Austria, Italy,
Germany and the Czech Republic.