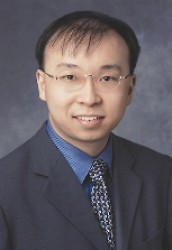 Peter K. Yu
Peter K. Yu, the Kern family chair in intellectual property law at Drake University, will speak at a high-profile entertainment law conference in Nashville on Tuesday, Sept. 28.
The conference, "Where Do We Go From Here? The Evolution of Entertainment Law and Industry in the New World," is organized by Leadership Music and Vanderbilt University Law School. It will be held in conjunction with the Digital Summit co-sponsored by Next BIG Nashville and Leadership Music, a weeklong industry event in Nashville.
In a presentation titled "Five Ways to Make the Entertainment Industry's Enforcement Strategies More Convincing," Yu will explore the weaknesses in a number of arguments that have been advanced to support the expansion or restriction of intellectual property rights. He will also offer his recommendations on how the entertainment industry can make its enforcement strategies more convincing.
"Intellectual property enforcement is important," Yu said, "but some strategies are more convincing than others. We find it acceptable to send commercial pirates and counterfeiters to jail, but we need to think twice before cutting off people's Internet access."
Yu recently published an opinion piece on the Anti-Counterfeiting Trade Agreement in the Des Moines Register. In the piece, he urges the Obama administration to take the time needed to get the treaty right. "No deal is better than a bad deal, and the agreement should not be finished in haste regardless of consequences," he concludes. Read the entire piece online.
In addition to the general counsel of the U.S. Copyright Office, professor Yu and other leading copyright law scholars, the Nashville conference will feature a number of music industry leaders:

Cary Sherman, president, Recording Industry Association of America
David Israelite, president & CEO, National Music Publishers' Association
Shira Perlmutter, executive vice president, global legal policy, International Federation of the Phonographic Industry and former associate register of copyrights for policy and international affairs
Linda Bloss-Baum, vice president of public policy and government relations, Warner Music Group
Michael Huppe, general counsel, SoundExchange
Eddie Schwartz, songwriter
Yu is the founding director of the Intellectual Property Law Center at Drake University Law School. A leading expert in international intellectual property and communications law, he sits on the editorial board of the Journal of Copyright Society of the U.S.A. He is also the general editor of The WIPO Journal, published by the World Intellectual Property Organization in association with Sweet & Maxwell.
Under his leadership, the Drake Intellectual Property Law Center has served as a leading international hub for research and education in the intellectual property field. In the past two years, the U.S. News and World Report magazine has ranked the center consistently among the top 25 intellectual property law programs in the United States and one of the top five programs in the Midwest.