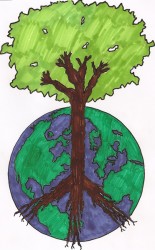 The Drake University Environmental Action League (DEAL) is hosting its fifth annual Earth Week with a variety of activities designed to promote environmental awareness, activism and appreciation.
All of the events are free and open to the public and will take place on Helmick Commons in the center of Drake's campus from 11 a.m. to 2 p.m.
Tuesday, Sept. 21

Theme: Conservation Day

Students can participate in events such as bottle bowling and solar panel cookie baking. Representatives from the Polk Country Parks and Recreation Department and the Drake Outdoor Leadership Club will discuss environmental preservation and the Blank Park Zoo will bring animals.
Wednesday, Sept. 22

Theme: Transportation Day

Tandem bikes and giant tricycles will be available for students to ride around campus. A Toyota Prius hybrid car will also be displayed.
Thursday, Sept. 23

Theme: Farmers' Market Day

Local vendors will provide organic and fresh produce. Mikiel 'JuJu' Williams, a musician from New Orleans, will perform an outdoor concert.
For more information, contact DEAL student representative Kyle Schura at 319-360-5423, or David Courard-Hauri, associate professor of environmental science and policy, at 515-271-3812.