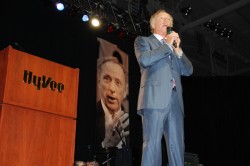 Ron Pearson addresses the crowd at Saturday's joint celebration.
Drake University and Hy-Vee Inc. officials gathered Saturday evening at
the Knapp Center to celebrate the unveiling of the basketball court, which has been named Ron Pearson Court, in honor of Hy-Vee Chairman Emeritus and Drake alumnus Ron
Pearson.
Hy-Vee made a contribution to the university's athletic department
that granted the company naming rights to the court where Drake men's
and women's basketball games and Drake volleyball games are played.
Hy-Vee suggested naming the court in honor of Pearson, a Hy-Vee leader
who served as chairman and CEO of the company from 1989 until 2006,
when he was elected chairman emeritus.
Drake officials, per NCAA guidelines, approved the name and the
design of the court, which was repainted over the summer to feature the
Hy-Vee logo on the floor and the designation "Ron Pearson Court" on
both endlines.
Drake Athletic Director Sandy Hatfield Clubb said the university is pleased to join Hy-Vee in saluting Pearson.
"Ron Pearson is the ideal alumnus to honor in this way," Clubb
said. "His name is synonymous with excellence and integrity, which are
two values that Drake aspires to model on a daily basis. We are
grateful to Hy-Vee for their generous support of Drake athletics."
Hy-Vee Chairman and CEO Ric Jurgens said the company wanted to
recognize Pearson not only for his service to Hy-Vee, but also for his
contributions to the Des Moines area, the state of Iowa and numerous
non-profit and charitable organizations.
"Ron Pearson is an individual who exemplifies Hy-Vee's fundamental
values of friendliness, helpfulness, honesty, respect and dedication,"
Jurgens said. "His visionary leadership transformed our company into
one of the most highly regarded supermarket chains in the world, and
his personal example has inspired thousands of Hy-Vee employee-owners
to become actively involved in their communities. We are proud to honor
Ron's legacy of service with this gift to his alma mater."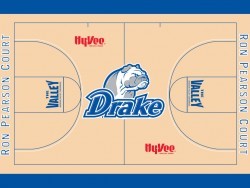 The court now features the Hy-Vee logo on the floor and the designation "Ron Pearson Court" on both endlines.
Pearson is a native of Des Moines and a graduate of East High
School. He started working for Hy-Vee in 1960 as a part-time employee
while attending Drake University.

After graduating from Drake in 1962
with a bachelor's degree in Business Administration, he accepted a
full-time position with Hy-Vee. Within two years, he had worked his way
up to store manager at Hy-Vee's new store in Cedar Falls. He became a
regional manager for the company in 1974, was elected an officer in
1975, and was promoted to vice president, retail operations in 1976.
In 1983 Pearson was elected to succeed Dwight Vredenburg as president of Hy-Vee, and he added the responsibilities of chairman and
CEO upon Vredenburg's retirement in 1989. Pearson served as the
company's top operations officer until 2006, when he was elected chairman emeritus.
During his career Pearson served as Chairman of the Food Marketing
Institute and was a recipient of the Sidney R. Rabb Award, FMI's
highest honor for supermarket industry leaders. He is a past chairman
of the Iowa Business Council and an inductee in the Iowa Business Hall
of Fame.

He has chaired or served on the boards of Drake University,
The Principal Financial Group, the Iowa College Foundation, the Greater
Des Moines Partnership, the Dowling Foundation, Keep Iowa Beautiful,
Partnership for a Drug-Free Iowa, Variety – The Children's Charity, the
Juvenile Diabetes Research Foundation, the Iowa United Negro College
Fund and several other organizations. He also chaired the successful
capital campaign to build the Russell and Ann Gerdin American Cancer
Society Hope Lodge in Iowa City.
Pearson and his wife, Ruth, are the parents of two children, Lezli and Joel, and have six grandchildren.