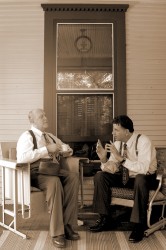 A scene from the StageWest Theatre Company's production of "Bill W. and Dr. Bob."
The upcoming Iowa-premiere of the play "Bill W. and Dr. Bob," produced by the StageWest Theatre Company of Des Moines, has numerous ties to Drake University.
The play, which will run from Sept. 17 through Sept. 26, features:

Assistant Professor of Theatre Karla Kash, director
Daniel Haymes, who graduated from Drake last spring, cast member
Kiley Fattor, who graduated in 2009, stage manager for the production
Ron Lambert, a 1974 Drake graduate, serves as artistic director for the StageWest company
During its run, the play will be performed Wednesday through Saturday at 7:30 p.m. and Sunday matinees will begin at 3 p.m.
The play, which premiered in New York City in 2007, takes place in 1929 and is based on the true story of the two men who founded Alcoholics Anonymous.
Wednesday and Thursday tickets cost $18 per person. On Fridays, Saturdays and Sundays, tickets cost $22. They can be purchased by phone at 1-800-745-3000, online at www.civiccenter.org, or in person at the Civic Center Ticket Office, 221 Walnut St., downtown Des Moines.
Groups of 10 or more receive a $2 per ticket discount. Contact the Civic Center's Group Sales Department at 515-246-2300.
All remaining unsold seats will be available for half-price 30 minutes prior to all Wednesday and Sunday performances.
The production is sponsored by the Powell Chemical Dependency Center at Iowa Lutheran Hospital.