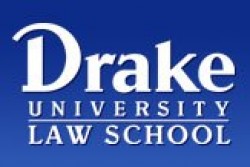 Two Drake University law professors will speak as part of Drake Law School's Constitution Day celebration in a program on Friday, Sept. 17, titled, "The Constitution as a Conversation."
The event, sponsored by the Law School's Constitutional Law Center, will be held at 2 p.m. Friday, Sept. 17, in room 205 of Cartwright Hall, 2621 Carpenter Ave. It is free and open to the public.
Ian Bartrum, assistant professor of law, and Miguel Schor, visiting director of the Constitutional Law Center, will discuss the legal interpretations of the U.S. Constitution and explore the ways in which the document is perceived by individuals at home and abroad.
Bartrum joined Drake in 2009. Previously, he served as visiting professor at Vermont Law School and the Irving Ribicoff Fellow at Yale Law School. He holds degrees from Hamilton College, Yale Law School and Vermont Law School. He is an expert in the field of constitutional history and law.
Schor, professor of law at Suffolk University, came to Drake this fall. He received his bachelor's, master's and law degrees from Tulane University. Before practicing law in New Orleans, he clerked for a federal district court judge in Louisiana and for the United States Fifth Circuit Court of Appeals. His research focuses on comparative constitutionalism and constitutional law.
"We are excited to have a program offering such an intriguing look at the Constitution," said Allan Vestal, dean of the Drake Law School. "We have two nationally-known experts covering the topic, and I know the presentations by Professors Bartrum and Schor will be of broad interest."
Con Law Symposium set for April 2
The Drake Constitutional Law Center will host the annual Constitutional Law Symposium on Saturday, April 2, 2011.
The event, titled "Debating the Living Constitution," will feature a discussion of David Strauss' book "The Living Constitution." The book, published by Oxford Press, recently was described by Harvard Law Professor Adrian Vermeule as "the most promising version of living constitutionalism by far."
In addition to Strauss, the Gerald Ratner distinguished service professor of law at the University of Chicago Law School, speakers at the symposium will be:

Keith Whittington, the William Nelson Cromwell professor of politics at Princeton University
Rebecca Brown, the Newton professor of constitutional law at the University of Southern California School of Law
Wil Waluchow, the Senator William McMaster chair in constitutional studies at McMaster University