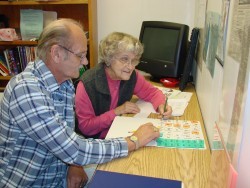 Each tutor works with an adult student for one to two hours a week.
The Drake University Adult Literacy Center is recruiting volunteer tutors in a two-day orientation event.
Training sessions will be held from 5 to 8 p.m. on Friday, Sept. 17, and from 9 a.m. to 3 p.m. on Saturday, Sept. 18, in room B13 of Drake's School of Education, 3206 University Ave.
"Volunteers work one-on-one for one or two hours a week with adults
who want to be better readers," said Anne Murr, coordinator of the center. "Tutoring is a very personal
form of volunteering in which you can see the direct benefits of your
efforts. You also learn about diversity of a different kind and gain
greater appreciation for a gift that we take for granted — the ability
to read."
Interested individuals should contact Murr at 515-271-3982 or anne.murr@drake.edu.