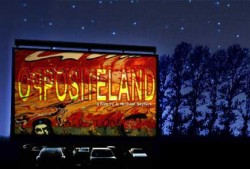 In recognition of National Hispanic Heritage Month, Drake University will host a screening of the 2008 film "
Opposite Land
" on Thursday, Sept. 16.
The presentation, which is free and open to the public, will begin at 6 p.m., and a group discussion will follow the screening. The event will be held in Drake's Honors Lounge in Medbury Hall, 2730 Forest Ave.
"Opposite Land" explores the difficulties faced by impoverished Mexican and Central American communities. The film explores the relationship between people struggling to survive and the political factors — including corruption, extreme climate, lack of natural resources and job loss — that contribute to their poverty.
"The event's goal is to spread awareness of poverty and spur discussion on the immigration issue," said Tan Sotelo, who organized the event. Sotelo, of Des Moines, is a graduate student at Drake.
Iowans for Oxfam, a statewide organization that is dedicated to the eradication of global poverty and social injustice, serves as an event sponsor.
For more information, contact Michael Haedicke at 515-271-3893 or michael.haedicke@drake.edu.