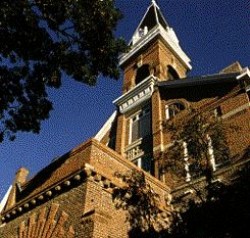 CONTACT: Aaron W. Jaco, 515-271-2179,
aaron.jaco@drake.edu
Drake University enrolled 864 first-year students this fall, maintaining optimum enrollment while improving the academic profile of the entering class. Last year's entering class had 863 students, just one student shy of this year's figure.
As part of Drake's commitment to recruiting top-notch students, the overall grade-point average of incoming first-year students went from 3.6 last year to 3.7 this year, based on a 4.0-scale. Fully 74 percent of this fall's entering students graduated in the top 25 percent of their high school class, compared with 70 percent last year.
Drake has become increasingly selective in admitting first-year students. The University admitted 65 percent of this year's applicants, whereas last year 74 percent of applicants were admitted. The target class size is designed to maintain the quality of the Drake experience and a tight-knit sense of community.
The caliber of this fall's entering class already has made an impression on many faculty members who teach first-year seminars.
"My first-year students this year have shown an incredible level of engagement in the classroom and a desire to really push themselves to learn, achieve and be part of a larger community at Drake," said Rachel Boon, who teaches a first-year seminar titled From Congress to the Classroom. "It is exciting as a teacher to see that in not just one or two students, but an entire class."
First-year students also have already demonstrated an eagerness to get involved with programs beyond the classroom.
"I have had two different first-year students initiate the process to start a new student organization, in just two weeks at Drake," said Melissa Sturm-Smith, assistant dean of students. "In a survey of first year students, 75 percent said they plan to participate in a student organization. This year's activities fair was the largest we've ever had."
Total enrollment remained stable this fall with 5,616 graduate and undergraduate students, as compared with last year's total enrollment of 5,653.
At the graduate level, the number of entering students at Drake Law School increased to 471, up from 469 last year. More students also joined the graduate-level pharmacy program — 470 this year, compared to 447 last fall.