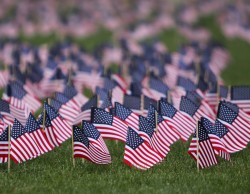 Drake University hosted a 9/11 Flag Memorial Ceremony Friday that featured the placement of 2,997 American flags that represent all of the people who lost their lives in the 9/11 terrorist attacks.
The nonpartisan event, which was organized by the Drake College Republicans student group, was held on Helmick Commons, east of the Olmsted Center, 2875 University Ave. The flags were on display through Sunday, Sept. 12.
Iowa Republican Party Chairman Matt Strawn spoke at the event about the experiences of all Americans during 9/11 and the need to remember the events. In addition, Pastor Terry Amann of Walnut Creek Community Church led the group in prayer. A student ensemble closed the event by performing "America the Beautiful."
"We wanted to make sure the sacrifices and consequences felt during and after the 9/11 terrorist attacks are not forgotten," said Josh Strief, president of the Drake College Republicans. "We felt it was important to provide a community event at Drake which would allow students, faculty and community members to come together in a moment of prayer and remembrance."
A gallery of photos from the event is available on Flickr at this link.
For more information, contact Josh Strief at 712-660-0448 or joshua.strief@drake.edu.