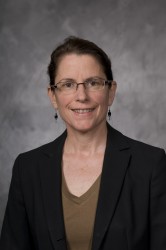 Janet Wirth-Cauchon, associate professor of sociology, will lead a discussion on "Exploring the New Materialist Feminisms," the first lecture in the fall 2010 Drake Center for the Humanities Colloquium Series.
The presentation, which is free and open to the public, will be held on Friday, September 10, from 3:30 to 5 p.m. in the Honors Lounge of Medbury Hall, 2730 Forest Ave.
The talk will address the recent emergence of materialism in feminist and cultural theory, which is characterized by a new focus on matter and nature as neglected concepts in cultural theory.
Through a reading of the work of Elizabeth Grosz, Donna Haraway, Karen Barad and others, Wirth-Cauchon will investigate the implications of this shift in feminist theory and practice. She will also examine how scholars have created nuanced accounts of matter and culture through the exploration of temporal change and process, cross-species relationality and the material practice of knowledge.
Wirth-Cauchon, who joined Drake's faculty in 1995, teaches courses on feminist theory, gender and culture, women and madness and psychiatry and society.
She received her bachelor's degree from Western Michigan University and her doctorate from Boston College. Her current research interests involve gender studies and feminist theory, the sociology of mental illness, the body and technology, and cultural studies.
In 2001, Wirth-Cauchon published "Women and Borderline Personality Disorder: Symptoms and Stories," an analysis of the gender implications created when women are diagnosed with borderline personality disorder.
The Humanities Colloquium Series will continue through the fall with the following presentations, which will take place from 3:30 to 5 p.m. in the Honors Lounge of Medbury Hall:
Sept. 24 — Mark Vitha, associate professor of chemistry, and Maura Lyons, associate professor art and design, "The DaVitha Code, or: How I Learned to Stop Worrying and Love the Chemistry of Art"
Oct. 8 — Mahmoud Hamad, assistant professor politics, "All for the Family: The Father-Son Succession in Republics"
Oct. 22 — Eduardo Garcia, assistant professor of Spanish, "Mexico Celebrates 2010: Learning about Mexican Identity with Authentic Videos"
Nov. 5 — Joan Faber McAlister, assistant professor of rhetoric, "Intimate Artifacts and Aesthetic Agents: Rhetorics of Preservation and Transformation in Two South African Prison Museums"
Nov. 19 — Renee Cramer, assistant professor of law, politics and society, "Signs at Odds? Reading Law, Legitimacy and Authenticity in Tribal Demarcations"
The University's Center for the Humanities sponsors the ongoing colloquium series that features faculty members whose work involves questions and topics relevant to the humanities.
For more information about the series, contact Joseph Schneider at 515-271-2158 or joseph.schneider@drake.edu.