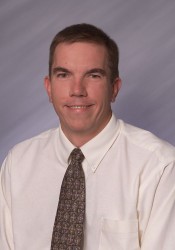 Mark Vitha
CONTACT: Tory Olson, 515-710-4446, tory.olson@drakae.edu
Drake University Associate Professor of Chemistry Mark Vitha has been named the inaugural Ronald Troyer Research Fellow for 2010-11, University officials announced today.
The fellowship was created to recognize Ronald Troyer, the University's chief academic officer for nine years. Troyer now serves Drake as senior counselor for international initiatives.
"The Fellowship honors Dr. Troyer's lifetime of contributions to the University's climate of scholarship by recognizing the ongoing research accomplishments of one of our faculty members," said Drake Provost Michael J. Renner.
"I am very pleased that Mark Vitha will be the inaugural holder of the Troyer Research Fellowship. He is a wonderful example of the highly engaged teacher-scholars that make up Drake's faculty. Drake's students are fortunate to have the opportunity to work side-by-side with him on scientifically important problems. We are grateful to our Trustees for creating this fellowship."
Vitha, who regularly collaborates with students in his laboratory, is known for his work on the analysis of complex mixtures has resulted in numerous published articles. He also is actively involved in working with students in Drake's Undergraduate Science Collaborative Institute and its summer research program.
"The funds will be used to continue my research involving undergraduates, focusing on finding ways to rapidly select the best method for separating, indentifying, and quantifying the components of complex chemical mixtures," Vitha said.
"I also hope to use some of the funds to support my interests in the light absorbing properties of dyes and to further develop new interests in the chemistry of art and art conservation."
The Ronald Troyer Research Fellowship Endowment Fund, sponsored by Drake's Board of Trustees, will support the ongoing collaboration with students and his research. A $5,000 stipend will cover one year of research-related expenses, including support of research assistants, equipment, travel and materials.



"I am honored to have been selected as the first Troyer Research Fellow and am grateful to the Board of Trustees for establishing this fellowship to allow faculty to pursue their intellectual interests," Vitha said.
"I hope my research efforts reflect and honor the hard work, dedication, and devotion that Professor Troyer brought to his roles of instructor, dean, and provost and which he continues to bring as senior counselor for international initiatives."
Vitha, who joined the Drake faculty in 1998, was recently selected to be the next editor of Willey-Interscience's "Chemical Analysis Series," a collection of monographs on analytic chemistry and its applications.
In 2003, he won Drake's highest honor for professors — the Madelyn M. Levitt Teacher of the Year Award.
Vitha holds a bachelor's degree in chemistry from the University of St. Thomas and a Ph.D. in analytical chemistry from the University of Minnesota. He has received numerous research grants from organizations such as the National Science Foundation.