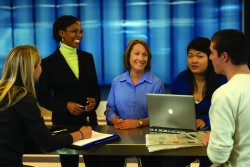 Drake's MBA program emphasizes real-world application of knowledge and problem-solving strategies.
Readers of the Des Moines Business Record have recognized Drake's MBA program as the area's best for the fourth straight year. Read the Business Record's story.
"We appreciate this recognition from the Des Moines metro business community," said Charles Edwards, dean of the College of Business and Public Administration.
"We view the metro business community as our partner," he added. "We work to create graduate and professional program experiences that meet students' needs while incorporating our faculty's expertise to provide the knowledge and tools needed to compete in a dynamic and global business environment."
Last year, the College of Business and Public Administration made improvements to the MBA program that continued to differentiate Drake's degree from those at other area schools.
One of those improvements was the addition of Leadership Essentials, an intense, highly interactive workshop on public speaking that is required for all incoming graduate-level business students.
The 15-hour workshop, conducted by Dardis Communications Inc., helps students to establish a professional presence, control nervousness, captivate an audience and deliver a persuasive presentation.
"The Dardis seminar provided valuable feedback on presentation skills ranging from speaking skills to body language during a presentation to how to best format your presentation. The feedback was real time and allowed me to watch and critique myself on video" said Scott Jackson, a student in the MBA program, who works at Wells Fargo Financial.
"I have found that I am more confident during presentations and find that the skills I learned are becoming second nature."
In addition, the college created a new speaker series that gave students the opportunity to hear from Des Moines business leaders during class time. Speakers included:

Barry Griswell, president, Community Foundation of Greater Des Moines
Steve Chapman, vice chairman, Ruan Transport
Iowa Supreme Court Justice David Wiggins
Julia Lawler, senior vice president and chief investment officer, Principal Financial Group
Terry Lillis, senior vice president and chief financial officer, Principal Financial Group
Brigadier General Timothy Orr, adjutant general of Iowa
Chuck Day, director of gift planning services, Opportunity International