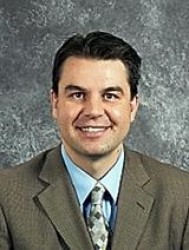 Joel Pedersen, who holds two graduate degrees from Drake's School of Education, recently was awarded the
School Administrators of Iowa
(SAI) 2010 Middle Level Principal of the Year Award. The award recognizes his leadership and commitment to educational excellence, staff morale, community support, student interest and learning environment.
Pedersen was honored for his work as principal in motivating and inspiring teachers to achieve and contribute to the school environment at Davis County Middle School in Bloomfield, Iowa.
In June, Pedersen was hired to serve as superintendent for the Cardinal Community School District in Eldon, Iowa.
Pedersen received his Master of Science in Education degree in 2004 and his Specialist in Education degree in 2006.
SAI is a statewide organization founded in 1987 that represents more than 2,000 Iowa educational administrators. The organization's role is to support, encourage and develop Iowa's educational leaders and learners.
Click here to watch a video of Pedersen's acceptance speech, filmed by an individual attending the ceremony.