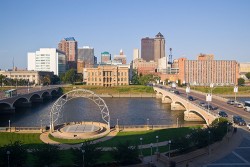 Drake is located in the heart of the No. 1 city in America for business and careers, according to Forbes magazine.
Forbes examined nearly 200 communities across the United States to compile its list. View the complete list online.
Many factors helped Des Moines grab the top spot this year, including low cost of doing business, low cost of living and an educated workforce. The magazine said the economic outlook for Des Moines is promising as employment and household incomes are expected to rise over the next three years.
With affordable housing prices, short commute times and 300 miles of pedestrian trails, Des Moines also received high marks for the quality of life of its residents.
Forbes has recognized Des Moines as a great city for professionals for two straight years. Last year, Des Moines ranked seventh on the magazine's list.