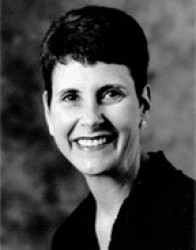 Aimee Beckmann-Collier
Aimee Beckmann-Collier, professor of conducting and director of choral studies at Drake University, recently began her two-year term as president of the North Central Division of the American Choral Directors Association.
ACDA is a professional organization dedicated to serving the needs of choral specialists and the singers with whom they work in schools, colleges, universities, churches and professional ensembles.
The organization consists of more than 18,000 members throughout the nation, including 2,800 in the North Central Division, which includes Minnesota, Wisconsin, Nebraska, Iowa, North Dakota and South Dakota.
As president of one of ACDA's seven divisions, Beckmann-Collier serves on the national board and interacts with the leadership teams in each of the six states within the North Central Division. She also will serve as chair of the 2012 divisional conference to be held in Madison, Wis.
Elected by the membership in 2008, she has been the division's president-elect since 2008 and will complete her six-year term by serving as vice-president from 2012 to 2014.
She previously served as president of the Iowa Choral Directors Association, editor of ICDA's publication, Sounding Board, editor of North Central's Melisma, chair of the 1992 divisional conference and the 1995 ICDA summer symposium.