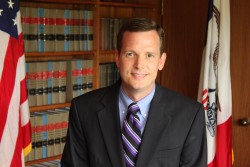 Geoff Greenwood
CONTACT: Tory Olson, 515-271-1834, tory.olson@drake.edu
Drake University alumnus and longtime KCCI-TV reporter Geoff Greenwood recently was appointed as communications director and public information officer for the Iowa Attorney General's Office.
As spokesperson for the Attorney General's Office, Greenwood will work with local, state and national news media, prepare news releases, coordinate the Attorney General's website and oversee consumer advisory bulletins and other office communications.
"I am looking forward to this new opportunity and a whole new set of challenges," said Greenwood, who began his role this week. "At the same time, I'm leaving a 22-year reporting career at KCCI-TV and the station's great staff."
Attorney General Tom Miller praised Greenwood's exceptional communications skills and experience when naming him to the post.
"I am elated that Geoff is joining us at the Iowa Department of Justice," Miller said. "He is an excellent communicator — he treats people fairly and he has a reputation for complete integrity."
"Geoff has broken more stories over the past two decades than anyone I can think of," KCCI News Director Dave Busiek said. "He has excellent sources, gets his phone calls returned and has enormous respect from the legal and law enforcement communities — it is those qualities that caused the Attorney General's office to seek him out. Geoff will do a great job over there."
Greenwood credited Drake with preparing him for his career by providing him with a solid foundation in journalism.
"My course work, the faculty and specifically my adviser, John Lytle, prepared me well to be able take on a challenging job," Greenwood said. "TV news is hard work, but it can be an exciting, rewarding career. Reporting obviously demands communication skills. To be successful also requires initiative, the ability to make fast decisions and a solid reputation for being fair. These attributes helped pave the way for my new career path."
Greenwood is the recipient of a Regional Emmy Award, and he has been honored with numerous first-place reporting awards from The Associated Press and the Iowa Broadcast News Association.
Within his community, Greenwood is a Boy Scouts of America volunteer and district committee member. He is past president and board member of the Northglenn Neighborhood Association in Johnston.