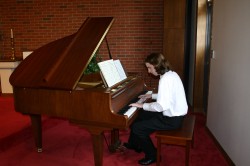 David Rubin at the keyboard.
David Rubin, who completed his Bachelor of Music in piano performance in May as a student of Professor Nicholas Roth, has joined Roth in participating in an international music festival at Indiana University.
They are performing in the 2010 Edward Auer Summer Piano Workshop — A Celebration of the Chopin & Schumann Bicentennials from July 9-19 at the Indiana University Jacobs School of Music.
A native of Minneapolis, Rubin was featured in this year's Drake Student Honors Concert. He also performed in master classes for pianists Ralph Votapek, Lydia Artimiw, Svetlana Belsky and Andreas Klein. He will be teaching this fall at Keyboard West in West Des Moines and serving as a staff accompanist at Drake.
"The festival is a wonderful melting pot of musical and pianistic ideas because the participants come not only from across the nation but throughout the world," Rubin said. "There are concerts, master classes and private lessons everyday from which I can greatly improve my own playing and understanding of music.
"Drake has prepared me very well for this experience," he added, "since all the music faculty have very diverse ways of understanding and teaching music, which will allow me to better understand and learn from the greater diversity at Indiana."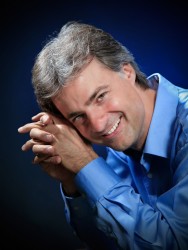 Professor Nicholas Roth studied with Edward Auer at Indiana University.
Professor Roth is teaching and performing at the festival. His concert program includes the complete "Novelletten, Op. 21," of Robert Schumann, which will be released on compact disc on the Blue Griffin Recording label later this summer. Roth also is performing the Schumann works in Canada and for the 2010 World Piano Conference in Novi Sad, Serbia, in August.
Roth, who received his bachelor's and master's degrees at Indiana University, was a student of Edward Auer, who invited him to participate in the festival that bears his name.
"Though he had intended for me to participate in the festival long before now, it just didn't happen to work out until this year," Roth said.
"As 2010 marks the birth bicentennial of both Chopin and Schumann, and since Schumann's works are of particular interest to me, this is an especially auspicious time for my participation in the festival. This is also a wonderful opportunity for piano students, such as David Rubin. I hope to bring several other students to the event next year."
The festival includes two concerts by the Shanghai String quartet, one of the leading quartets of our generation, featuring performances of both Chopin piano concertos in chamber format with Auer as soloist.
James Tocco, former Jacobs School faculty member, now teaching at Manhattan School of Music and Cincinnati College Conservatory of Music, will give a master class and a recital.
In addition to Roth, other faculty include Eugene Albulescu, Junghwa Moon Auer, Kori Bond, Jong Hwa Park, Jung Won Suh, Kinwai Shum.