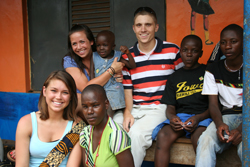 Drake students (left to right) Jennifer Kaiser, Jacki Debb and Nate Bleadorn at the Sure Institute, a school for children with special needs.
Faculty and students from Drake University recently traveled to Uganda to explore sustainable development and help pave the way for future collaboration among Drake and Ugandan students and faculty.
The Drake group of 28 students joined students from Makerere University Business School in Kampala, Uganda, for the three-week, six-credit Sustainable Development in Uganda course. Offered since 2007, the seminar qualifies as a business, history and honors class, and fulfills engaged citizen and multicultural course requirements.
Provost Michael J. Renner and Ron Troyer, senior counselor for international initiatives, also joined the Drake group for about five days. They met with officials from MUBS and at Makerere University, regarding the partnership and future opportunities for collaboration.
"They are as eager as we are to discuss ways to grow our successful partnership into a broader collaboration that can involve students and faculty from across both institutions," Renner said.
Renner and Troyer also met with Dr. Apolo Nsibambi, Prime Minister of Uganda, to discuss international issues in higher education.
"During the visit we signed a memorandum of agreement outlining several additional types of exchanges we plan to discuss in the coming months," Renner said. "This fall, MUBS will send a delegation of students, faculty and administrators to visit Drake."
New initiatives will include student and faculty exchanges, collaborative research projects and more joint seminars like the Sustainable Development in Uganda course.
"Four years of taking students to Uganda has really laid the groundwork for future collaboration," Root said.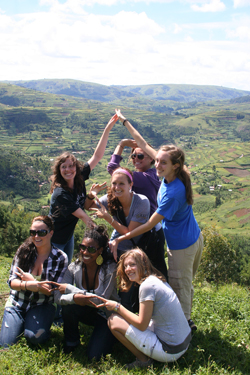 Taylor Kalchbrenner, Danielle Ford, Carmen Anderson, Michelle Godar, Kristen Neumeister, Brooke Porter and Jennifer Kaiser.
During the trip, students kept a blog at http://www.mubs-drake-seminar.blogspot.com/ and wrote about experiences and captured their reflections in a
journal. The diary is a large component of the course and grade, and
challenges students to look for "aha" moments and to analyze their
experiences and how those related to core topics of the course.
Led by Associate Professor of Management and International Business
Debra Bishop and Associate Professors of Finance Jimmy Senteza and Tom
Root, the course covers a variety of topics. In addition to sustainable
development, they include human rights, democracy, entrepreneurship,
education, tourism, health care and business practices.
Students visited the Buganda Parliament, watched a soccer game (Uganda
vs. Kenya) and toured a Kampala crocodile farm, a school for students
with special needs, an AIDS support organization and Murchison Falls
National Park, among others.
"The Uganda travel seminar is definitely an experience of a lifetime,"
said Alex Timm, a senior actuarial science, accounting and mathematics
major from Galena, Ohio. "I think that this trip and the personal
connections you make while in Uganda and meeting other students embodies
Drake's goal to teach students global citizenship."
Another student, Jeff Hirsch, a sophomore public relations and marketing
major from Sturgeon Bay, Wis., said the experience was incredible and
he would do it again in a heartbeat. On his journey, Hirsch said the
most valuable part of the seminar was breaking down preconceived notions
about Africa and Uganda.
"Little by little," Hirsch said, "these notions are being broken and to
me, breaking these notions and enabling everyone to experience Africa
for themselves is key to becoming a global citizen."