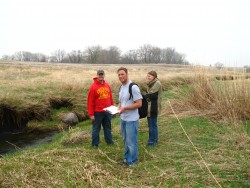 Drake students Bret Lang, Santino Nardulli and Jamie Lane conducted fieldwork at watersheds on Raccoon River and Boone River.
This year's senior capstone for Drake University environmental science majors was developed as a collaboration with the Iowa Soybean Association (ISA). Students were given the opportunity to create educational materials encouraging soy producers to adopt more sustainable agricultural practices.
"The goal of the project was to create a way for producers to understand the importance of different farming practices on the environment," said Jamie Lane, a senior environmental science major from Hastings, Minn. "The study of sustainable agriculture is important because of its positive impact on natural wildlife and vegetation surrounding farms."
Students also developed an appraisal tool allowing producers to assess farms in terms of ecosystem sustainability and maintenance, considering factors including native pollinators, biodiversity and internal nutrient cycles.
The project will be continued next year when the capstone course is again offered in spring 2011.
Keith Summerville, associate professor of environmental science, developed the capstone with ISA watershed management specialist Anthony Seeman. Seeman earned his bachelor's degree in environmental science and policy from Drake in 2006.
"The ISA is always interested in building partnerships and we thought working with the capstone course would benefit both Drake and our organization," said Keegan Kult, who serves as the ISA's watershed management specialist. "ISA has formed environmental programs to take a proactive approach in facing environmental issues pertaining to agriculture."
Serving as the Drake student project leader, Santino Nardulli of Chicago said that the project brought producers and environmentalists together to accomplish a common goal.
"Sustainable agriculture is often misunderstood," said Nardulli, who graduated from Drake in May with a bachelor's degree in environmental science.
"Most people feel that sustainable agriculture cannot be profitable, and that it prohibits producers from farming in conventional ways. This is not the case, and this capstone helped us inform producers that farming can be done in an environmentally friendly way while still being profitable."
Bret Lang of Kanawha, Iowa, said that the project provided him with real-world experience and new knowledge on local and world food distribution.
"When you add up the amount of fuel it takes to create agricultural chemicals, tend to crops and distribute the final product, there is an incredible amount of energy being used," said Lang, a senior environmental science and policy major.
"Sustainable agricultural practices and studies help curb some of this massive energy usage while keeping crops free of chemicals and lessening the use of genetic modification."