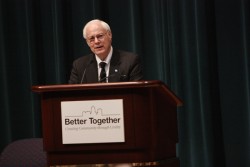 Jim Leach discusses "Civility in a Fractured Society."
Approximately 400 people gathered Friday to hear former Iowa Congressman Jim Leach, now chairman of the National Endowment for the Humanities, speak about the importance of civility in politics and society.
His speech at the Principal Financial Group Auditorium in downtown Des Moines was the first event in a speaker series organized by Drake, Character Counts in Iowa, the Community Foundation of Greater Des Moines and the Interfaith Alliance of Iowa.
The series, titled Better Together — Creating Community through Civility, will continue this fall with several events on the Drake campus.
Leach's speech, titled "Civility in a Fractured Society," was shown live on Iowa Public Television and can be viewed on the IPTV website.
Leach began his speech by noting that the United States was founded at a time when there was great concern for the rights of man.
"American society is based upon public thoughtfulness," he said. "Civil discourse is often identified as good etiquette, but that should be considered a prerequisite. Principally, civil discourse is about whether or not someone is respectful of someone and their views and whether or not someone wants to reach out and put one's self in another's shoes."
In political circles, Leach said, negative labels are being used more and more often. While former Vice President Dick Cheney was labeled a fascist, President Barack Obama has been called both a fascist and a communist.
"In some ways, there's a great deal wrong with that kind of hyperbole," Leach said. "The words 'secessionist' and 'nullification' have come into the current vocabulary — these are words that summoned people to war, and these were issues we thought were resolved in the Civil War."
Words have an impact, Leach said. "Sometimes words polarize, sometimes they impel violence — likewise, words can uplift, they can ennoble actions and inspire people.
"They can bring out the better angels in one's natures or they can bring out the baser instincts. If you play on irrational prejudices, hate can be enflamed; you can exacerbate intolerance and go further into a violent dimension."
Leach cited "with malice towards none and charity for all" as the epitome of unifying discourse — a sentiment that came from President Lincoln's second inaugural address.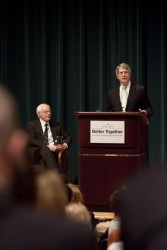 Jim Leach, left, listens to Jim Hubbell speak.
Jim Hubbell, a longtime member and past chair of Drake's Board of Trustees, also spoke at the event.
He turned to Leach and said, "When anyone wants to talk about civility, you are the real deal."
Hubbell then described the University's longstanding commitment to
promoting civility and freedom of speech and said that Drake is proud
to be a partner in the civility initiative.
In dealing with contemporary issues related to discourse — such as the protest of Drake's spring symposium on same-sex marriage by the Westboro Baptist Church — University leaders often refer to Drake's Statement of Principles for guidance, Hubbell said.
This document, adopted by the Faculty Senate back in 1991-92,
encourages and protects diverse perspectives and the free flow of ideas
and discussion. It also states that Drake's students, faculty and staff
share the responsibility of maintaining respect for each other and for
new and opposing ideas.
Speech should be a thoughtful process, according to the document, because "speaking irresponsibly can negatively affect morale, motivation and community."
These guiding principles also urge the entire Drake community "to be sensitive to the harmful effects of hostile speech and to refrain from speaking in demeaning and discriminatory ways."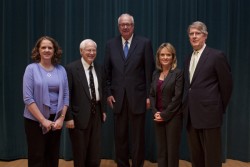 Connie Ryan Terrell, Jim Leach, Barry Griswell, Laura Hollingsworth and Jim HubbelI gather after Friday's event.
Drake will continue to promote civility on and beyond the campus community as part of the civility initiative.
The University will host the next event in the series — a speech
by Bill Bishop, author of "The Big Sort," on Thursday, Sept. 16, in
Sheslow Auditorium in Old Main, 2507 University Ave.
The event, which is free and open to the public, will start with registration at 6:45 p.m., followed by the program at 7 p.m.
In conjunction with that event, there will be a community reads program based on Bishop's Book.
"The Big Sort" tells the untold story of why America is so
culturally and politically divided. Copies of the book will soon be
available for purchase at the University Bookstore, 3003 Forest Ave.
For more information, call the bookstore at 515-274-3401. Additional
information about "The Big Sort," is available at http://www.thebigsort.com/home.php.
To learn more about the civility initiative, visit the Better Together Iowa website.