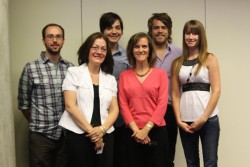 Spaulding-Kruse, Smith and their production team pose for a photo at a recent book promotion.
Carol Spaulding-Kruse, associate professor of English at Drake University, and Kay Fenton Smith, a Des Moines-based children's author, have assembled a collection of stories told by nine immigrant children who have settled in Iowa.
The book, titled "Zakery's Bridge: Children's Journeys from Around the World to Iowa," will be released in November by Des Moines-based Shrieking Tree Publishing.
The collection features young storytellers describing their lives in their home countries, explaining how and why they came to America and what it has been like to settle in Iowa. The children hail from:

• Bosnia

• India

• Israel

• Laos

• Mexico

• The Netherlands

• Palestinian Territories

• Sudan

• Taiwan
The book's title comes from a story told by a child named Zakery, whose family fled their home country during the war in Bosnia in the early 1990s. During the war, an ancient bridge in Zakery's hometown of Mostar was destroyed. A few years later, he returned to Bosnia to reunite with relatives and found the bridge rebuilt. The theme of cultural bridges as a means to promote understanding of diversity runs throughout the book.
"This book is important because our children will grow up to be the coworkers, neighbors, friends and spouses of immigrants," Spaulding-Kruse said. "We feel very strongly that this book is needed in our own children's classrooms, and we must educate children on how to interact within a community of diversity."
The authors conducted research for two years, traveling throughout the state to conduct interviews. They attended events ranging from small family dinners to large celebrations, often bringing their own children along.
"These families welcomed us into their homes, invited us to their celebrations and festivals, shared photographs and items from their country of origin, taught us about their traditions and told us about their sometimes difficult journeys to Iowa," Spaulding-Kruse said.
The "Building Zakery's Bridge" project was funded in part by a Drake University research grant and the Drake Center for the Humanities. https://wwww.drake.edu/artsci/hc/
All proceeds from the book will be donated to the CultureALL (formerly World of Difference) and the Iowa Council for International Understanding.
Promoting community involvement through independent publishing
Spaulding-Kruse and Smith discussed their experiences in developing, writing and publishing their new book at a discussion held on June 1 at the Central Library in downtown Des Moines.
The authors addressed the role of community publishing in fostering international awareness and advocacy in Central Iowa. Community publishing, as defined by Spaulding-Kruse, occurs when participants collaborate as advocates for an issue within their community, spreading awareness and promoting service.
Smith said that they have continued to promote the book's message by conducting workshops in classrooms throughout the state.
"These workshops allow Iowa children to create art and participate in multicultural activities," Smith said. "They become aware of their young peers in countries all over the world."
Spaulding-Kruse said she plans to create a course on community publishing at Drake in which students from a variety of disciplinary backgrounds can participate in various aspects of book production, partnering with an organization that addresses a community need.
For more information, visit www.zakerysbridge.com or contact Carol Spaulding-Kruse at 515-271-3969 or carol.spaulding@drake.edu.