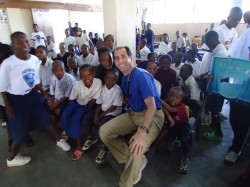 Professor Bell poses for a photo with a group of children at a clinic in Tanzania.
A clinical specialist in pediatric pharmacy, Drake University Professor Edward Bell recently traveled to Singida, one of the poorest regions in Tanzania, as part of a team of 35 professionals on a medical mission trip. Bell, professor of clinical studies, received a Faculty Development Grant for $2,500 to fund his trip.
The trip, which lasted from March 30-April 16, was organized by Lisa Menzies, a pediatrician at Blank Children's Hospital in Des Moines, where Bell practices pediatric pharmacy. Outreach International also helped organize the trip.
One of Bell's patients was a 12-year-old girl who was suffering from a post-surgical abdominal infection. He and his team worked to care for the girl, who improved during the trip.
"Another pharmacist and I prepared an intravenous bag of solution and antibiotic — as the nurses at the hospital did not know how to do this and the hospital's pharmacy was closed," said Bell, who joined Drake in 1989.
"The girl improved over the next few days but she still needed additional surgery. The entire medical team chipped in, and we were able to pay for transportation to a hospital in Kilimanjaro. The girl is now doing much better."
Bell, who holds a bachelor's degree and doctorate in pharmacy from the University of Maryland, has been asked to return to Tanzania next year with the medical mission team.
"I am working with Drake's pharmacy college administration to make it possible clinical rotation for pharmacy students," Bell said. "This would be a great experience for students."