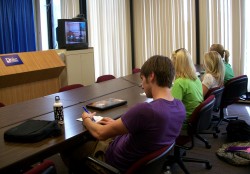 Drake students connect in a virtual world with their peers at Marquette.
A group of Drake advertising students are connecting in a virtual classroom with their peers at Marquette University in Milwaukee, Wis., as part of a study abroad course on global branding.
Both groups will convene in London, England, and Prague, Czech Republic, this summer to study how ethnographic differences impact advertising approaches.
To prepare for the experience, which is part of a new course offered through Marquette, the students are taking part in distance learning sessions using Skype, videoconferencing and iChat.
The students left May 16 for the three-week course overseas, during which they will be grouped into project teams to track brands and study cultural codes. The teams will be writing blogs to capture and share what they learn, which will be accessible through http://globalbrandtracking.wordpress.com/.
The five Drake students, who were selected to participate with 11 students from Marquette, are:

Jon McDonald, a sophomore, marketing and advertising account management, Eagan, Minn.
Kara Rhodes, a junior, creative advertising, writing minor, Braidwood, Ill.
Susan Clausen, a junior, creative advertising, art minor, Johnston, Iowa
Lydia Metzger, a junior, advertising account management and graphic design, Hudson, Wis.
Jim Davis, a junior, advertising account management and marketing, Saint Charles, Ill.
In London and Prague, the students will take part in seminars on economic, marketing and media trends in the European Union. They will visit multi-national advertising agencies and factories that manufacture and market the products they are studying — automobiles, beer and fashion apparel. Students will take a tour of the Skoda automobile factory in the Czech Republic and the advertising agency that handles the Skoda account.
Creating advertising for automobiles requires a very different approach in Europe, where fuel cost, parking availability, geography and customs differ markedly from those in the United States, said Dorothy Pisarski, Drake assistant professor of advertising and a Sam Walton Free Enterprise Fellow.
"Rather than seeing these details in a report, they're going to be immersed in the culture and observe firsthand nuances," Pisarski said.
A growing collaboration
Drake's relationship with Marquette began last year when Pisarski met with Jean Grow, Marquette associate professor of advertising and public relations, at an advertising conference in New York City.
Pisarski said she realized that she had just started teaching from a textbook written by Grow, and the two began discussing Grow's dream of developing an international advertising class.
"I contributed some of my ideas, and we kept in touch," said Pisarski, whose Polish descent brought additional insight into the abroad trip to the Central European region. "As Dr. Grow started to develop details such as topics, countries and itinerary, she kept me in the loop. When I asked — half jokingly — how many Drake students could take part, she agreed to include both schools."
The trip will benefit both schools, and Drake students said they are eager to experience the real world of advertising in another part of the globe.
"A program this specialized cannot be beat by anything learned in the classroom, especially given the itinerary for agency visits and program activities," said Jon McDonald, a junior marketing and advertising account management double major from Eagan, Minn.
Junior Lydia Metzger, an advertising account management and graphic design double major from Hudson, Wis., said that the summer travel schedule will allow her to do something she has always wanted to do — study abroad — without conflicting with her other coursework.
"This will be my first experience in Europe," Metzger said. "It's a wonderful opportunity to interact with professionals in our field and get a better understanding of different cultures."