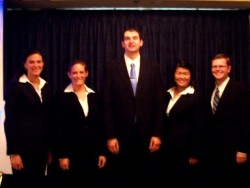 Team members Emily Madden, Katie Martin, Jonathan Rzepecki, Natalie Zheng and Caleb Bailey pose for a photo.
A group of Drake University advertising students recently earned third place ahead of universities from Iowa, Nebraska, Missouri and Kansas at this year's American Advertising Federation's National Student Advertising Competition in St. Louis.
Each year, a corporate sponsor provides an assignment or case study outlining the history of its product and current advertising situation. This year's sponsor was State Farm Insurance, and the students were challenged to create a yearlong campaign targeting 18-25 year olds in need of auto and renter's insurance.
The competition serves as a senior capstone for creative advertising, advertising account management majors and advertising minors at Drake. Thirty-six students were involved in the project. Five students presented at the competition and 31 students responded to judges' questions in St. Louis.
"I had a great time in St. Louis," said one of the student presenters, Jonathan Rzepecki, a senior advertising account management and marketing major from Milwaukee, Wisc. "The overall experience was good exposure to a working office setting. Most, if not all, of the members of the class had some job experience or some other activity that took a high amount of focus, and this project helped to refine those skills."
Sandra Henry and Dorothy Pisarski, assistant professors of journalism and mass communication, taught the course.
"There is no better capstone experience than for the students to actually do as seniors what they'll be doing as professionals," said Pisarski, who joined Drake in 2004.
"The capstone is comprised of a student ad agency, Blue Inc., and each year we 'hire' the seniors in the various positions during the fall semester," she added. "The students learn teamwork, human resources management and other important parts of working in an ad agency, in addition to applying the accumulation of seven semesters' worth of information and education."
This year's Blue Inc. campaign was called "Let's Get Personal." The team produced commercials for television and radio, as well as print and web ads. A Web site was also developed as a hub for social media connections, and event-marketing executions were designed.
In addition to the production of advertising, the students produced a 32-page full color plans book explaining the client's situation analysis, primary and secondary research, campaign media plan, schedule and budget.
The American Advertising Federation (AAF), headquartered in Washington, D.C., is the oldest national advertising trade association, representing 40,000 industry professionals. The AAF provides advertising students with real-world case studies and recruitment connections to corporate America, with nearly 100 blue-chip corporate members comprised of advertisers, agencies and media companies, representing the nation's leading brands and corporations.