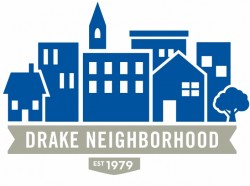 The Drake Neighborhood Association's new logo.
Several historic homes will be open to tour-goers in the Cottage Grove area from 30th to 42nd streets as part of the annual Drake Neighborhood Historic Home Tour, which runs from 11 a.m. to 5 p.m. Saturday, June 5, and Sunday, June 6.
The tour will include a range of architectural styles ranging from Victorians from the 1890s to Craftsman homes from the 1930s.
Tickets are available for $10 prior to the tour at Mars Cafe, Drake Diner, Gateway Market (Sherman Hill location), Dahl's on Ingersoll Avenue and Beaver Avenue and at Hy-Vee Drug Store on 42nd Street. Tickets are also available for $15 the weekend of the tour at the starting location at 2700 University Ave.
Those who purchase tickets to the home tour may show their ticket to receive a discount at the annual Greek Food Fair on Saturday, June 5, at the Greek Orthodox Church of St. George, 35th Street and Cottage Grove Avenue.The food fair will take place from 11 a.m. to 8 p.m.


Be a Neighborhood Sleuth
As part of the upcoming Drake Neighborhood historic survey, the neighborhood association will be creating an online library of photographs, documents and stories from years gone by. People with a current or past Drake Neighborhood connection are encouraged to dig through their attics and sort through their sock drawers for clues to the area's shared history.
Among the items that will be helpful to the historic survey are:

Old photos showing homes and streets
Old photos of people, families, and children
Historic documents like marriage certificates, diplomas, and birth announcements
Original drawings of Drake homes
Old maps (streetcar maps, neighborhood maps)
Newspaper articles about neighborhood residents or events
A scanning station will be set up at Grace Church during the Historic Home Tour on Saturday, June 5. Bring your historic Drake Neighborhood items and be entered in a raffle for local prizes. Individual historic items will be scanned or documented on site and returned to their owners immediately. Anyone with larger collections to document, may contact Jennifer James at jenjames123@gmail.com or Steve Wilke-Shapiro at swilkeshapiro@gmail.com.


A new look for the association
The Drake Neighborhood Association has a new logo, thanks to a contest won by Andrew Maahs of Des Moines. The contest, which was open to the public from October 2009 – February 2010, attracted 19 entries. The winning design, seen above, was chosen by a committee of neighborhood residents and local marketing and design professionals. Maahs received $750 for his winning entry.
Maahs, a Des Moines native and a graduate of the University of Northern Iowa, has more than eight years of professional experience as a graphic designer. He currently works at Trilix Group and has also started a screen printing business focused on music posters and apparel, called BASEMINT. Prior to joining Trilix, Maahs worked as a graphic designer for the Drake University Marketing and Communications department and VIVAMEDIA as an art director.
"We were thrilled by the quality of the entries and the thought that went into the designs. We think Andrew did an outstanding job capturing the history and diversity of the neighborhood with his logo," said Trisha Eslick-Davis, the DNA board member who chaired the selection committee.
The logo contest was created to solicit high-quality logo designs to help with the neighborhood association's branding and awareness efforts. The first use of the logo is 13 welcome signs that were installed at neighborhood entry points in April.