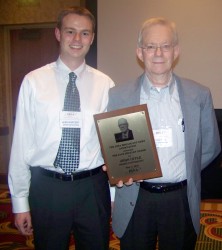 Drake student Jess Hoffert and Professor John Lytle pose for a photo at the IBNA awards ceremony.
Faculty and students in Drake University's School of Journalism and Mass Communications were well represented among honorees at the Iowa Broadcast News Association (IBNA) Convention held recently in Cedar Rapids, Iowa.
IBNA, a non-profit group of radio-TV directors, reporters, producers and public relations experts, presents scholarships and awards annually to outstanding broadcast news professionals and students.
John Lytle, the Ellis and Nelle Levitt distinguished professor of journalism, received the 2010 Jack Shelley Award — the IBNA's highest honor. Lytle received the award in recognition for his outstanding contributions to the field of professional broadcast journalism in Iowa and for his demonstration of dedication to broadcast news and record of cooperation with fellow journalists.
"I'm humbled and honored to be recognized," said Lytle, who has served as a member of the Drake faculty since 1977. "At the convention, I was shocked when the award presentation began and my photo appeared on screen."
Lytle, who coordinates the broadcast news program and teaches production and reporting courses at Drake, spoke highly of his mentor, Jack Shelley, for whom the award was named.
"Shelley was my undergraduate instructor in the fine points of broadcast copyediting," Lytle said. "He served on my Master's thesis committee, and he offered encouragement and positive recommendations on my career moves, including my move to Drake."
Several Drake students were honored with first-place awards for their work in radio broadcast reporting:
• Laura Hoeft, a junior broadcast news major from Eagan, Minn., for feature reporting

• Jess Hoffert, a junior magazines and broadcast news major from Winona, Minn. for in-depth series reporting

• Paige Hulsey, a junior broadcast news major from Bourbon, Mo., for public affairs reporting

• Mark Stevens, a senior broadcast news and environmental policy major from Geneseo, Ill., for overall excellence in reporting and his work at WHO radio
Drake students Stacy Issen, a senior radio-television major from Wheeling, Ill., and Tony Tracy, a senior broadcast news major from Clive, Iowa, also received first-place honors in the IBNA television sports category.
"I love the journalism school at Drake; it's excellent," Hoeft said. "All of the professors are extremely helpful, and the program concentrates on recent events, which is great preparation for a career in broadcast news."
"Drake has offered me the hands-on professional experience of producing actual newscasts and stories on issues that impact the community," said Hoffert, who hopes to become a reporter.
"We've won many news awards over the years, from IBNA and other professional organizations; our students work hard, they're smart and they're productive," Lytle said. "They understand the journalism world, thanks to the many benefits Des Moines offers, including newsmakers and media outlets that offer internships."