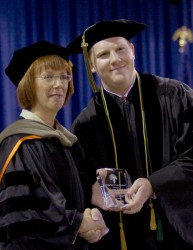 Dean Raylene Rospond and Carter Birkel at Drake's recent Pharmacy and Health Sciences Hooding Ceremony.
CONTACT: Tory Olson, 515-271-1834, tory.olson@drake.edu
Recent Drake University graduate Carter Birkel has received Drake's fourth Karbeling Memorial Leadership Award for his leadership and outstanding contributions to the University and the pharmacy profession.
The award was presented at Drake's May 15 College of Pharmacy and Health Sciences Hooding Ceremony, recognizing students graduating with a Doctor of Pharmacy degree.
The annual award is given to recognize a pharmacy student who has shown leadership in professional education, association work, community service and pharmacy practice. It was created in memory of Jerry Karbeling, a 1974 Drake pharmacy graduate and an outstanding alumnus who died in 2005.
"I believe as a member of the community, it is my civic duty to always be an engaged and caring citizen," said Birkel, of Elmwood, Wis., who will serve as pharmacy manager position for Target Corp. after graduating.
"Community service is more than an allotted time for a prearranged activity; it is a characteristic. My community service comes in the form of helping others whenever possible, not just when it is convenient."
Birkel, who also received a master's degree in business administration this month, has been active in several organizations including:

Academy of Managed Care Pharmacy (AMCP)
American Society of Health-System Pharmacists (ASHP)
American Pharmacist Association (APhA)
Colorado Pharmacy Society (CPS)
Phi Lambda Sigma Professional Leadership Society
Nathan R. Beckman, pharmacist for Fairview Red Wing Health Services and Drake pharmacy preceptor, praised Birkel for combining his enthusiasm for pharmacy and his dedicated patient care in the award nomination letter.
"Carter displayed his enthusiasm for pharmacy and motivation to provide exemplary care to everyone he encountered while on my rotation," Beckman wrote. "His bedside manner and patient interactions truly showed his love for being a pharmacist and his desire to motivate patients to improve their quality of life.
"Carter's work ethic and initiative set a very high bar for all other Doctor of Pharmacy candidates that share their rotations experience with us in the future."
Karbeling: Longtime leader and advocate for pharmacy at Drake
Karbeling was the owner of Big Creek Pharmacy in Polk City, Iowa, and senior vice president for public affairs and corporate development for the Iowa Pharmacists Association. He was a member of Kappa Psi, a professional leader, community advocate and strong supporter of Drake's pharmacy program.
The class of 1974 established the Karbeling Memorial Leadership Fund, which supports the annual award for a student who demonstrates Karbeling's values and actions including professional involvement, commitment to practice and political advocacy.
Candidates for the Karbeling Leadership Award are full-time Doctor of Pharmacy students in their fourth year of the Professional Pharmacy Program enrolled in the College of Pharmacy and Health Sciences at Drake.
For more information about the Karbeling Memorial Leadership Award, contact the Emily Hamilton at 515-271-4049 or emily.hamilton@drake.edu.