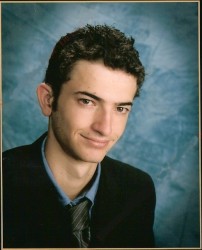 Many college students spend their summer breaks relaxing at a local pool, lake or beach, but Evan Repsholdt, a junior computer science and mathematics major from Lisle, Ill., will spend his vacation interning for the
United States Naval Air Systems Command (NAVAIR)
.
This will be the second consecutive summer that Repsholdt has worked at the NAVAIR Patuxent River Naval Base in Maryland. His duties last year as an engineering technician included working in the aircraft simulation lab, helping with briefs for an admiral and learning about infrared countermeasures. He also studied aircraft electronic warfare, radar systems and avionic air defense investments.

Flight simulators prove exhilarating
Repsholdt said the highlight of his internship was flying F-18 and V-22 flight simulators.
"This was very cool!" Repsholdt said. "I flew the simulator aircraft for over three hours and it was one of the most exciting things I've ever done."
The internship this summer will span from June 1 to August 6. Due to security clearances, Repsholdt could not discuss in detail what his responsibilities will include.
"I've been told that they will pertain to my computer science and mathematics major," Repsholdt said.
Established in 1966, NAVAIR's mission is to provide full life-cycle support of naval aviation aircraft, weapons and systems operated by sailors and marines. This support includes research, design, development and systems engineering; acquisition; test and evaluation; training facilities and equipment; repair and modification; and in-service engineering and logistics support.
Hearing the good news
Repsholdt discovered the internship opportunity at NAVAIR while perusing a Web site sponsored by the Midwest Alliance Outreach in Science, Technology, Engineering and Mathematics (STEM). The organization offers high quality, supportive programs designed to guide students with disabilities in the Midwest towards careers in science.
Repsholdt, who was born with bi-lateral hearing loss, was selected for the internship at NAVAIR based on his academic record and recommendation from the Alexander Graham Bell Association for the Deaf.
"This opportunity is like a dream come true for me," Repsholdt said. "To think that I was once told that I would never talk or be able to communicate in the hearing world, to this!"
As a child, Repsholdt underwent years of therapy to learn how to verbally communicate, a process he describes as "grueling."
"Because of my mother's determination, my hard work and the success of auditory verbal therapy, I am able to converse with my peers and I can learn in traditional classrooms," Repsholdt said.
In 2007, he was fitted with a cochlear implant in his right ear.
"With an implant, your brain has to be retrained to hear sounds," Repsholdt said, "Initially, all I would hear were a lot of clicks and strange sounds. Before the implant, I rarely heard the sound of running water and would occasionally leave the sink running. Another new sound was a bird's high-pitched singing in the morning hours."
Drake develops remote captioning system to accommodate deaf student
Repsholdt chose to attend Drake for many reasons, including its commitment to accommodations for students with disabilities. He said that Michelle Laughlin, Drake's student disability services coordinator, has been wonderful in organizing Drake's first remote captioning system.
"Evan has been a lot of fun to work with," Laughlin said. "We've set up remote captioning in his classrooms so that he can attend lectures and understand what is being said. Basically, Evan logs into an instant messaging system and a typist who is listening to the lecture transcribes word for word what the professor is saying. Evan reads the captioning on his computer."
Repsholdt added that Drake's positive environment and educational excellence also drew him to the University.
"The quality of the education at Drake is top rate," Repsholdt said. "When I first visited Drake, everyone was very warm and inviting. Drake is also my grandfather, Arthur Brne's, alma mater; he graduated from Drake's pharmacy school in 1957. He came with me on my first visit, and he was thrilled to be back on campus."