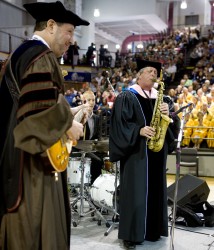 Drake President David Maxwell and Dick Oatts perform a blues ballad.
CONTACT: Tory Olson, 515-710-4446, tory.olson@drake.edu
While many university presidents across the country are talking to their graduates about how to successfully achieve balance in their lives, Drake University President David Maxwell is taking a different approach — he's showing them how he does it.
At Drake's Undergraduate Commencement Ceremony today, Maxwell, the son of highly acclaimed jazz trumpeter Jimmy Maxwell, picked up his Gibson Les Paul guitar and played a blues ballad with renowned saxophonist Dick Oatts, who had just accepted an honorary Doctor of Music degree from the University.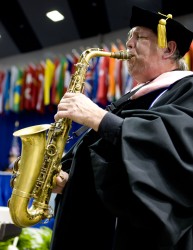 Dick Oatts demonstrates his virtuosity on the saxophone.
President Maxwell and Oatts alternated playing lead and were
accompanied by a rhythm section consisting of Oatts' 18-year-old
nephew, Jeff Oatts, on drums; Drake senior Nick Rueckert on keyboard;
and local musician Dave Altemeier on bass.
The musical interlude, which lasted about five minutes, drew an
enthusiastic response from the 730 undergraduate degree recipients and
their families and friends gathered for the annual rite of passage in
Drake's Knapp Center. A video of the performance is posted on YouTube.
Each spring, President Maxwell sends an e-mail message to
graduating seniors, asking them what they'd like him to talk about in
his commencement remarks. The responses he received this spring had a
common theme: With all of the challenges of starting a career, with all
of the demands of professional lives, how do we find a balance?
In his remarks, Maxwell said he's pleased that today's college
graduates insist on having a balance between life and work. That
attitude, he said, wasn't typical of his generation, which tended to
define people by their occupations.

"You've got a much healthier attitude, and you are to be heartily
commended for it," he added. "It's not that you don't expect to work
hard and to reap rewards from that work, but — to your great credit —
you also expect to have a life."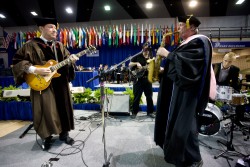 The surprise performance engaged graduates, faculty, alumni and even small children who danced to the music.
Some students sent e-mail messages asking the president to
elaborate on how Drake fulfills its mission to prepare students to lead
meaningful personal lives. Others asked Maxwell how he finds balance in
his own life.
The answers they received at commencement from Maxwell, a scholar
of Russian literature, focused on his passion for narratives,
especially works of fiction, as well as his lifelong love of music.
Maxwell's father, one of the greatest lead trumpeters in jazz history,
toured the Soviet Union with the Benny Goodman Band in the 1960s and
Maxwell went along as the band boy, setting up music stands and even
meeting Soviet Premier Nikita Khrushchev.
"I did not inherit my father's talent or discipline," Maxwell said,
"but I did inherit his passion for music — the joy of listening to it
and the immense pleasure of making joyful sounds."
Maxwell noted that he runs every morning with his iPod shuffling
through its 9,500 songs. "Music takes me to places that I can't get to
any other way, enables me to see the world in ways that words cannot
convey, and immerses me in emotions from sadness to the sublime," he
said.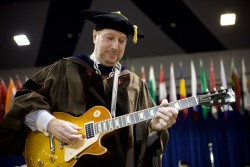 President Maxwell uses notes as well as words to convey his message to the Class of 2010.
"Music makes us ageless, at least while we're listening to it or
playing it — an important attribute at my age. . . . Music is one of
the most important ways in which we prove that we exist, and that gives
purpose to the fact that we're here."
Maxwell also addressed the graduates' concerns about how to go about developing meaningful personal lives.
"A meaningful personal life isn't about you," he said. "It's about others. . . . It's a matter of finding a way to ensure that it made a
difference that you were here — that someone else's life, some
organization or institution, some community, maybe even the whole world
— is better off because you spent some time on earth."
There's also another vitally important component of a meaningful personal life, Maxwell said, "and that part is about you."
He encouraged the graduates to pursue interests outside of their
careers, to search for inspiration and to find ways to "seek comfort,
solace and refuge from the erosion of your soul that comes with
prolonged, excessive immersion in reality. Ensuring that you're
grounded in reality is essential, but so is dreaming, so are daily
vacations from everything else that consumes you — even from the many
good things."
Maxwell concluded his narrative about the ways in which one gives
life meaning in a different mode, quoting some of his favorite
"authors" who crafted their stories with notes, rather than words.