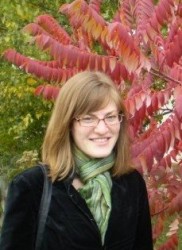 Marina Yakhnis
Marina Yakhnis, a 2009 Drake University graduate, recently received a Fulbright grant that will take her back to her home country of Ukraine to research an ethnic group exiled from the Crimean peninsula.
Yakhnis, an international relations major who is originally from Odessa, Ukraine, will study and research throughout the 2010-11 academic year in Simferopol, the capital of the Autonomous Republic of Crimea in Ukraine.
She was among several students who applied for Fulbright grants, including Rachel Shulruf, a senior international relations major from Buffalo Grove, Ill., and Alex Rajewski, a senior biochemistry and molecular biology major from Topeka, Kan., who are alternates to teach English in Venezuela and Taiwan, respectively.
"Marina has an excellent Fulbright project and is well deserving of this award," said Eleanor Zeff, Drake's Fulbright Program adviser for student scholarships. "She also earned Drake's International Relations' 2009 Elsworth Woods prize.
"We are very proud of her and also of the other two alternates, Alex and Rachel, who received the Elsworth Woods prize this year. We are hopeful that all three students will ultimately receive Fulbright awards."
During her stay in Ukraine, Yakhnis will study the ethnic group known as the Crimean Tatars who were deported to Central Asia by Joseph Stalin at the end of World Ward II. She will receive guidance from a political science professor from V.I. Vernadsky Taurida National University in Simferopol.
"My research will explore the Tatars' memories of exile," said Yakhnis, a National Alumni Scholar who will conduct all research in Russian.
Yakhnis noted that Stalin exiled a large number of minority groups throughout the USSR, including Chechens, Koreans and Volga Germans, among others.
"Interviewing Crimean Tatars about their experiences will be a transformative and deeply emotional experience," said Yakhnis, who is serving for a year as an AmeriCorps VISTA at a Minneapolis-based nonprofit called Amicus.
Her family emigrated to the United States through a special visa program for Jews from the former Soviet Union when she was 6 years old. They gained citizenship in 1999, settling in Overland Park, Kan., where she grew up and went to high school.
"The jury is still out on whether Stalin intended to deport Eastern European Jews before his unexpected death. Some historians — and my family — believe that he had plans to 'resettle' Jews in some uninhabitable corner of the USSR. I'm very aware of the ease with which Soviet Jews could have joined the long list of minorities who were arbitrarily exiled by Stalin, so I have a distant yet very personal connection to this research."
She credits Drake for her Fulbright grant and her professors for helping to shape her world view.
"The faculty at Drake is incredible. There are a lot of professors at this university who pushed my critical thinking abilities to the limits and changed the way I view the world. They're invested in their students' success and are very generous with their time, knowledge and contacts. I really could not have asked for a better undergraduate experience."