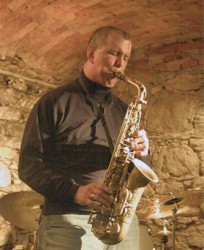 Dick Oatts
Dick Oatts, renowned jazz saxophonist, will host a master class for Drake University students from 1 to 3 p.m. on Friday, May 14.
The class, which is free and open to the public, will be held in the Mainstay, 25th Street and Forest Avenue.
Oatts will receive an honorary Doctor of Music degree from Drake at this Saturday's undergraduate commencement ceremony, where he will address Drake's 730 graduating seniors.
He also will perform with the Des Moines Big Band from 6:30 to 9:30 p.m. on Monday, May 17. The concert, which costs $5 for adults and $4 for students, will be held at Adventureland Inn, 3200 Adventureland Drive in Altoona.
Oatts, professor of jazz studies at Boyer College of Music and Dance at Temple University in Philadelphia, has led a successful career as a professional jazz saxophonist for more than 30 years. He has performed with prestigious jazz orchestras, accompanied popular vocalists and groups and released nine CDs to date.