Drake University faculty and staff participants recently completed the University's inaugural Emerging Leaders Collaborative (ELC) program.
The first-ever leadership development program of its kind at Drake, the ELC extended over an 18-month period and included classroom sessions as well as small group project work, examined issues relevant to higher education and Drake.
"The program is aimed at developing a broader understanding of issues and strategic challenges beyond one's own department, while also creating an awareness around the characteristics of a successful leader," said Venessa Macro, assistant vice president for business and finance and director of human resources.
Drake's 14 faculty and staff participants were invited to celebrate the conclusion of the program this month at the home of Drake President David and Maddy Maxwell. Participants, who each received a gift and plaque commemorating their successful journey through the ELC program, were:
Maria Bohorquez, professor of chemistry in the College of Arts and Sciences
Rachel Boon, director of institutional research and academic compliance
Chris Ditter, associate director of student financial planning
Deneen Rae Dygert, associate director of admission
Lisa Gardner, associate professor of statistics and assessment coordinator for the College of Business and Public Administration
Robert Harlan, director of student accounts
Danette Kenne, assistant dean of graduate and professional programs for College of Business and Public Administration
Tricia McKinney, assistant director security
Kevin Moenkhaus, student records systems coordinator
Jim O'Brien, manager of desktop services
Pam Pepper, director of development operations and Annual Fund programs
Bartholomew Schmidt, digital projects librarian for Cowles Library
Chuck Sengstock, director of Extension Education for the School of Education
Nora Stelter, assistant professor of pharmacy practice for the College of Pharmacy and Health Sciences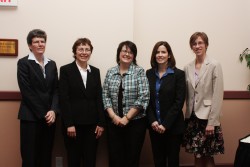 Lisa Gardner, Maria Bohorquez, Deneen Dygert, Chris Ditter and Rachel Boon.
The program included classroom sessions facilitated by Lance Noe, director of Drake's Center for Professional Studies and Tom Westbrook, professor of education, leadership and adult development. The group also completed an extended session on executive presentation skills led by Dardis Communications, who has previously partnered with Drake to lead several workshops for students, faculty and community members.
The program culminated with work in small groups focused on an issue relevant to higher education. Each group was assigned an administrative leader to guide the group through the development of their topic.
Vice President for Admission and Student Financial Planning Tom Delahunt, Provost Michael J. Renner and Dean of Pharmacy and Health Sciences Raylene Rospond served in this capacity.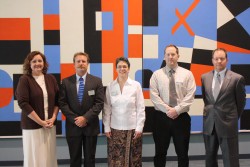 Tricia McKinney, Bart Schmidt, Danette Kenne, Kevin Moenkhaus and Robert Harlan.
Each of the three small groups gave a formal presentation on the topic to members of the senior administration and others. Topics were:
"Enhancing the Culture of Wellness at Drake"
"Work-Life Balance at Drake: Improving Job Satisfaction and Retention"
"Student Services: From Expectations to Execution"
"One of the goals of this project was to create awareness around some of the steps a leader must take to facilitate change," Macro said. "A lot of people have good ideas or notions about how things should be, but the real leadership challenge is in thinking through all aspects of the idea, the obstacles to implementation and developing a specific plan to make it happen."