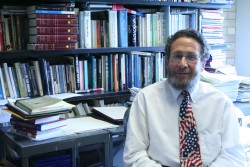 Art Sanders
CONTACT: Tory Olson, 515-271-1834, tory.olson@drake.edu
Drake University recently announced Arthur Sanders, the Ellis and Nelle Levitt professor of politics, will serve a three-year term as associate provost for curriculum and assessment.
Sanders will succeed John Burney, who served in the position since 2007 and will move this June to Doane College in Crete, Neb., to become vice president for academic affairs and professor of history.
"Dr. Sanders' depth of understanding of the Drake Curriculum and his respected position among the faculty will be important assets in this new position," said Provost Michael J. Renner, chief academic officer at Drake.
Sanders, who joined Drake in 1990, is the author of four books on American politics. His most recent book titled, "Losing Control: Presidential Elections and the Decline of Democracy," was published in 2007.
He teaches courses on the American political process, public opinion, elections, media and politics, women and politics and comparative political parties and interest groups. He also has published numerous articles and book chapters.
Sanders is frequently quoted in the local and national media for his expertise and research in several areas of political science:

Formation and dynamics of public opinion
Role of the media and the impact of money
Political parties
Impact of interest groups on political processes
Local, state and national elections
In addition, Sanders has served as president of the Faculty Senate, director of Drake's Honors Program and chair of the Department of Politics and International Relations.
A past winner of the Arts and Science Teacher of the Year Award, Sanders also gave the 2004 Stalnaker Lecture at Drake. In 2005, he was named the Centennial Scholar in recognition of his achievement in scholarship.
Before joining Drake, Sanders taught at Hamilton College in Clinton, N.Y. He holds a bachelor's degree from Franklin and Marshall College and a Ph.D. from Harvard University.