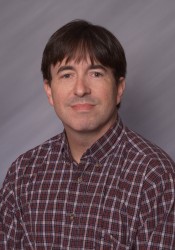 David Skidmore
David Skidmore, professor of politics and international relations and
director of Drake University's Center for Global Citizenship (CGC),
will spend the 2010-2011 academic year in Hong Kong on a Fulbright
Fellowship.
While in Hong Kong, Skidmore plans to teach one of two possible
courses — Globalization or U.S. China Relations. He has taught both
courses at Drake in previous years.
In addition to teaching a class in Hong Kong, Skidmore will help
the University of Hong Kong make the transition from the three-year
British structure to a four-year American style undergraduate program,
with an extra year focused on general education.
Upon completion, Skidmore will write an article on general
education reform in Hong Kong. The piece will be published in a
book-length compilation of articles by many Fulbright Scholars.
"One of the things that's exciting about this is the opportunity to
participate in designing a new general education program from scratch,"
Skidmore said. "American universities have had general education
programs for many decades and so changes are always with reference to
what has existed previously.
"In this case we have the chance to start without any of the
existing encumbrances and commitments that prior programs usually
entail."
Skidmore will be accompanied by his wife, Charlene Skidmore,
assistant director of the Honors program and First-Year Seminar Program
at Drake, who will take a leave of absence for the academic year.
Skidmore previously visited Hong Kong while he was teaching at the
Johns Hopkins-Nanjing University Center for Chinese and American
Studies in Nanjing, China.
He hopes to return to Drake with new ideas about how to further
internationalize Drake's curriculum. He will build ties with the
University of Hong Kong that could develop into partnerships with Drake
in the future.
Associate Professor of Sociology Darcie Vandegrift, a fellow
Fulbright Scholar who spent the 2008-09 academic year in Venezuela,
will serve as interim director of the Center for Global Citizenship in
2010-11, while Skidmore is abroad.
The Fulbright Program is a government-funded program that awards
grants for international educational exchanges between scholars,
graduate students and educators. Individuals who are accepted are able
to undertake graduate study, advanced research, university teaching and
teaching in elementary and secondary schools in countries across the
world.
The program aims to promote peace and understanding through
international educational exchange. It allows funding for United States
citizens to go to a foreign country as well as non-U.S. citizens to
come to the United States.
In addition to Skidmore and Vandegrift, other Drake faculty members who have received Fulbright Fellowships are:

Karl Schaefer, professor of librarianship
Mel Arslaner, associate professor emeritus of public administration
Nancy Berns, associate professor of sociology
Jim Dodd, professor of accounting
Matthew Esposito, associate professor of history
Mark Kende, professor of law
Leslie Mamoorian, associate director, international and graduate admission
Chip Miller, professor of marketing
Rahul Parsa, professor of actuarial science
Elizabeth Robertson, associate professor of English
Janice Weaver, associate professor of economics