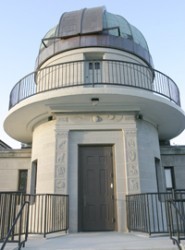 The spring series of presentations at the Drake Municipal
Observatory will conclude on Friday, May 7, with a discussion on remaining
scientific mysteries to be solved.
The event, titled "The Mystery Remains," is free
and open to the public. It will start at 8 p.m. at the observatory in Waveland
Park on the west side of Des Moines, 4898 Observatory Road, off Polk Boulevard.
Parking is available adjacent to the observatory.
The final program will examine the mysteries that are posed
by new advancements in exploration and modern science. The lecture will focus
on events that defy explanation, as well as the inability of modern science to
account for new phenomenon.
One of the topics to be covered will be the role of dark
matter in the universe. "Astronomers can't explain it, yet they have a lot
of proof that it's happening. They don't know exactly what it is or how it
works," said Herbert Schwartz of Drake University's Department of Physics
and Astronomy.
Following the presentation,
members of the audience will have the opportunity to view several stellar
objects through the large refracting telescope and several smaller reflecting
telescopes.
The program will be held
regardless of the weather, although the selection for observation is subject to
change due to sky conditions or other special circumstances. Individuals,
families, and small groups are welcomed to attend. A parent or responsible
adult must accompany children.
For more information, contact
Drake's Department of Physics and Astronomy at 515-271-3141.