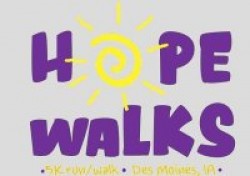 Drake University's chapter of the international pharmacy fraternity Lambda Kappa Sigma (LKS) will host a benefit 5K walk and run on Saturday, May 8, for Project HOPE (Health Opportunities for People Everywhere).
HOPE waLKS will begin at 9 a.m. at Gray's Lake Park in Des Moines. Cost of registration, which is available online, is $20 for race participants who register before May 6. Participants may also register on the day of the race for $25, payable only by check.
Non-race participants are asked to make a free-will donation.
Project HOPE aims to achieve sustainable advances in health care around the world by implementing health education programs and providing humanitarian assistance in areas of need. The project's main goals are to:

Help people help themselves
Share medical knowledge
Develop long-term solutions to pressing health problems

The top male and top female finishers each will receive a $15 gift certificate to Buffalo Wild Wings. LKS will also donate $100 to a charity chosen by the team with the most members.
Additional prizes will include gift certificates to local vendors, including:

Buffalo Wild Wings
Iowa Bakery Café
Scheel's
Jimmy John's
Mars Cafe
For more information, contact Hayley Vance at hayley.vance@drake.edu.