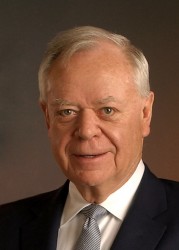 Fred Turner
The Drake University Jazz Ensemble I will perform an eclectic program of music with several guest artists at this year's Fred and Patty Turner Jazz Concert on Tuesday, May 4.
The second annual Turner concert, which is free and open to the public, will begin at 7:30 p.m. in the Performing Arts Hall in the Harmon Fine Arts Center, 25th Street and Carpenter Avenue.
Fred Turner, a Des Moines native who attended Drake, served as chairman and CEO of McDonald's Corp. before his retirement.
He made a $1 million gift to the University in 2008 to endow the Fred and Patty Turner Professor of Jazz Studies. The position is held by Drake professor Andrew Classen, who directs the jazz studies program and the award-winning Jazz Ensemble I.
The University presents an annual concert to honor Fred and his late wife, Patty, who was a talented musician and a Drake alumna. Each performance celebrates the Turner family's continued generosity and commitment to jazz studies at Drake.
Last November, Turner invited Drake Jazz I to perform for the "Friends of Fred" party he hosted at McDonald's home office in Oak Brook, Ill. Turner's family and friends from around the world listened to a high-energy performance by Drake Jazz Ensemble I, including Classen's arrangement of "Sweet Home Chicago," with a guitar solo by Drake President David Maxwell.
The May 4 concert at Drake will feature guest artist Peter Sommer, a saxophonist from Colorado. Sommer, who is assistant professor of saxophone and director of jazz studies at Colorado State University, will perform solos on "A Flower is a Lovesome Thing," and "Sandu." President Maxwell also will play his guitar as a featured soloist on "Sandu."
The program will consist of:
* "Ya Gotta Try" by Sammy Nestico

* "El Viento" by Maria Schneider

* "A Flower is a Lovesome Thing" by Billy Strayhorn; arranged by Mike Tomaro

* "Rompe Cabezas" by Matt Harris

* "Three and One" by Thad Jones
A brief intermission will follow the first set. The second set will include:
* "My Foolish Heart" by Victor Young and Ned Washington; arranged by Nick Rueckert, a senior music education major from Eagan, Minn.

* "Beginning to See the Light" by Don George, Johnny Hodges, Duke Ellington and Harry James; arranged by Dave Wolpe

* "Floating Home" by Gordon Goodwin

* "Bluebird of New Delhi" by Duke Ellington and Billy Strayhorn

* "Sandu" by Clifford Brown; arranged by Andrew Classen
For more information, contact Drake's Department of Music at 515-271-3975 or visit the Web site.