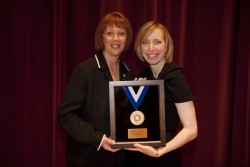 Dean Raylene Rospond and Melissa Murer Corrigan
Drake recently honored Melissa Murer Corrigan, PH'89, with the Lawrence C. and Delores M. Weaver Medal of Honor — one of the University's highest awards — for her commitment to the pharmacy field.
Corrigan, executive director and CEO of the Pharmacy Technician Certification Board (PTCB), is the 11th recipient of the Weaver Medal, which is awarded by the College of Pharmacy and Health Sciences.
Medal recipients are recognized for:

Advancing the education, research or outreach mission of the college for the benefit of human health
Making a substantial impact on the profession of pharmacy
Providing to the college significant financial support that has funded strategic change and progress
As part of her honor, Corrigan gave a keynote address on "Making a Difference" at Drake's Sheslow Auditorium. She spoke to students and faculty about her experiences, especially her career and the growth of PTCB.



Since its founding in 1995, PTCB has certified more than 360,000 pharmacy technicians nationwide and offers the most recognized pharmacy technician certification program in the country.
"Under Melissa's guidance and leadership, PTCB has positioned pharmacy technicians as an integral part of enhanced pharmacy practice and improved patient care," said Thomas Menighan, American Pharmacists Association executive vice president and CEO. "Trained, skilled pharmacy technicians empower pharmacists to spend time with patients to optimize their drug therapy and achieve the most positive outcomes possible."