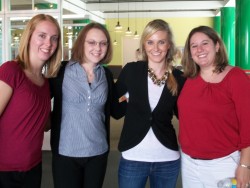 Drake students Lydia Metzger and Trisha Lightfoot; Des Moines AAF Education Director and Drake alumna Katie Goerne; and AAF President Kathleen Riessen.
More than 15 journalism students from Drake University participated in The American Advertising Federation (AAF) of Des Moines annual student day.
The federation, which sponsors the event each year, held the conference at the Meredith Corp. on Friday, April 16.
Students listened to speakers from various segments of the profession and multiple ad agencies and a panel discussion featuring professionals from the account services and creative areas of the ad industry.
Drake students, who represented a variety of majors, were among a group from colleges and universities across the Midwest that discussed the world of advertising.
Topics covered included:

Careers in advertising
Relating to other areas of advertising
The differences in resumes and portfolios
What a resume and portfolio should look like and what should be included
Job interview tips, techniques and etiquette as well as job expectations
Client contacts and the career path
In addition, there were roundtable discussions and speed networking sessions in which students were exposed to multiple professionals and careers in the industry. The conference was a way for students to affirm their career choice and for those who may be interested in Ad Principles but are unsure what to specialize in.
Among the speakers were two Drake SJMC graduates, Katie Goerne and Matt Meszaros, who work together at Strategic America. Goerne is currently the Education director for the AAF of Des Moines and is giving back to the industry by holding office in the association.
"It is so phenomenal for current students to see graduates in their professional capacity, and I am grateful the alumni are so involved," said Dorothy Pisarski, assistant professor of Journalism, who attended the lunch/panel discussion.