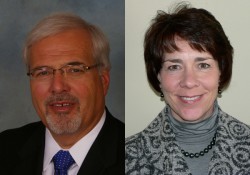 Donald Lee Decker and Cathryn Lacy
CONTACT: Lisa Lacher, 515-271-3119, lisa.lacher@drake.edu
Drake University graduates Donald Lee Decker, president and chairman of Decker Truck Line Inc. in Fort Dodge, Iowa, and Cathryn Lacy, a community volunteer in Des Moines, have been elected to the Drake Board of Trustees.
Both will serve three-year terms on the board, which meets four times yearly and serves as the University's policy-making and governing body.
Decker earned his bachelor's degree in business administration from Drake in 1970 and later took graduate courses in economics at Drake. He continues to support and attend Drake Relays events, a tradition he is passing along to his son, Dale, who is a sophomore in Drake's College of Business and Public Administration.
"Not only is Drake my alma mater, but it remains an excellent university located in the thriving city of Des Moines," Decker said. "I gained a great education from the Drake College of Business and attained the skills needed to overcome the challenges that I have encountered while developing, operating and expanding my business."
Decker Truck Line is a diversified carrier, transporting flatbed, refrigerated and dry van freight to 48 states and seven Canadian provinces. Decker has managed the business for 35 years and owned it for 20.
He also has been active in state and national organizations, serving on the boards of the Iowa Motor Truck Association, the Truckload Carriers Association and the Traffic Insurance Co. In 2008, he received the Outstanding Philanthropic Business/Corporation Award in Fort Dodge.
Lacy received her master's degree in public administration from Drake in 1986 after earning a bachelor's degree in dietetics and institutional management from Kansas State University.
During her career, Lacy has served as director of health promotion and wellness programs for Iowa Lutheran Hospital in Des Moines and, most recently, as marketing sales director at Tone's Spices.
She also has contributed her talents and leadership to a variety of organizations, such as the United Way Women's Leadership Connection. In addition, she has served on the boards of the KSU Foundation, Holy Family School Inner City Youth Foundation, United Way of Central Iowa and the Blank Park Zoo Foundation, and served as president of the boards of education for both St. Augustin School and Dowling Catholic High School. She was honored by Dowling with a Guardian Angel Award in 2008.
"Education has always been a passion of mine as you can see from the boards I have served on in the past," Lacy said. "I am privileged to have earned my graduate degree from Drake."
Lacy has remained active in University events, and now looks forward to serving her alma mater in a more formal capacity.
"Drake is a crucial part of our community, and sometimes people overlook the impact the University has on the Des Moines area," Lacy said. "It's great that Drake has so many area alumni involved in the board so that this partnership with the community can be made even stronger."
She is married to Steve Lacy, chairman, president and CEO of Meredith Corp., who recently received the Community Leadership Award from Drake's College of Business and Public Administration for his impact on the University and the Des Moines business community.