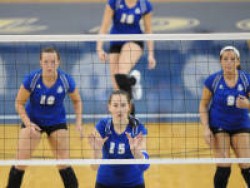 The Drake volleyball team celebrated its 2009 campaign at the squad's annual award dinner last month as head coach Phil McDaniel handed out five awards to four student-athletes.
Senior Chelsea Lauersdorf (Watertown, Wis.) was tabbed as the team's offensive most valuable player. A second team All-Missouri Valley Conference selection, Lauersdorf became just the third player in Drake history to distribute 3,000 assists, totaling 3,078 in 124 career matches. She registered a team-best 13 double-doubles, including seven straight to end the regular season. Leading the Bulldogs in assists (7.42) and service aces (0.26), she also averaged 2.26 digs per set.
Claiming the squad's most valuable defensive player honors for the second consecutive season was junior Alana Wittenburg (Readlyn, Iowa). Wittenburg also captured the strength and speed award. Appearing in all 34 matches for Drake, she led the team in digs (632) and digs per set (5.06). Her 632 digs established a new single-season school record, surpassing her own record of 603 registered a season ago.
The outstanding newcomer award went to redshirt freshman Emily Heffernen (Manchester, Iowa). Turning in a strong rookie campaign, she led Drake in hitting percentage (.296), including a .303 attack mark in league-only matches, a number that ranked fifth in the MVC and was tops among freshmen. She recorded at least one block in 33 of 34 matches this season, including the last 33 tilts. Twice last fall she was honored with MVC Freshman of the Week accolades en route to being named to the MVC All-Freshman team.
Earning the hustle and attitude award was junior Nicole Brown (Appleton, Wis.). Appearing in 25 matches, she averaged 0.48 kills and 0.30 digs per frame, while posting the fourth-highest blocks per set mark (0.57) on the team.
"Our team has worked very hard from the end of the 2008 season, through the summer and into the preseason of 2009," said McDaniel, whose team posted a 22-12 record, while advancing to the State Farm MVC Tournament for the first time since 1998. "We had one goal to make the conference tournament and these players have definitely earned the awards for the season. We will miss the leadership, energy and drive that the three seniors gave our squad. Our hope is to have the next group of players to fill in the gaps left by our seniors."
Drake will open its 2010 campaign on Aug. 27 when the Bulldogs battle San Jose State in Grand Forks, N.D.