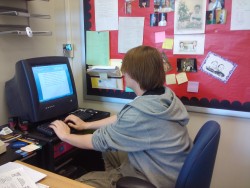 East High School student Matt Mendenhall makes use of his Drake flash drive while working on a school project.
Before the 10th graders in her English classes began working on a writing assignment, Drake University School of Education student Elizabeth James realized that some of the students were missing a valuable tool — flash drives.
"Flash drives are very important when working on papers between home and school," said James, a senior secondary education major from Owatonna, Minn. "For families who can't afford Internet access, flash drives are considered a luxury, and some of my students were unable to purchase their own devices."
James has student taught at East High in Des Moines since January, working under the supervision of educator Ginger Johnson.
"Not only do flash drives help with homework completion, but students need to become familiar with computer technology," said Johnson, who works with 140 high schoolers every day.
With Johnson's approval, James decided to procure enough flash drives to ensure that every 10th grader would be able to work on their assignments outside of class.
"I remembered that Drake had given out free flash drives to incoming students in the past," James said. "I asked Drake if there were any extra flash drives that I would be able to give to East High students who couldn't acquire their own."
Tracy Bainter, coordinator of marketing and special events for Drake's School of Education, provided James with 15 flash drives. Since then, James has instituted a checkout program that allows students to borrow a device, take it home and return it the next day.
One of Johnson's tenth-grade students, Matt Mendenhall, said that he uses his Drake-donated flash drive not only when working on assignments for his English class, but for other classes as well.
"The flash drives that Drake donated are very useful for completing my papers and other work," Mendenhall said.
Johnson hopes to continue the checkout program next year. "The flash drives are a great help," she said. "We also plan on giving a few hard working students their own flash drives to keep."